Artikelindex
Pagina 1 van 2
Gezond met of zonder thee
Veel duivenmelkers geven hun duiven wel eens thee, kruidenthee wel te verstaan. Sommigen geven het nooit, anderen als ze er eens aan denken en er zijn er die geen week zouden durven overslaan. Wie heeft er gelijk? De kampioenen zeker... met of zonder thee.
Van drogen naar drugs
Maar wat is kruidenthee eigenlijk en waarom zou je het aan de duiven geven? Onze voorouders wisten reeds eeuwen geleden dat bepaalde planten of plantendelen een zekere werking konden uitoefenen op mensen en dieren: bepaalde planten zijn zelfs zo krachtig dat ze een paard kunnen doden in minuten.
Is dat niet het sterkste bewijs dat plantenextracten wel degelijk invloed hebben op lichaam (en geest). Ook drugs zijn een bewijs dat planten (hennep, papaver, tabak, koffie, zwarte thee...) wel degelijk een min of meer sterke werking kunnen hebben op lichaam en geest. Wist je overigens dat drug van het Oudnederlandse "droge" komt? De link naar gedroogde kruiden is snel gemaakt. En degene die deze droge kruiden aanvankelijk verkocht was een drog-ist... In het Nederlands is de betekenis van drug helemaal verengd naar "verdovende en opwekkende middelen", terwijl het bv. in het Engels verruimd is naar de meer algemene betekenis van "geneesmiddel" naast die van verboden middelen. Dit terzijde.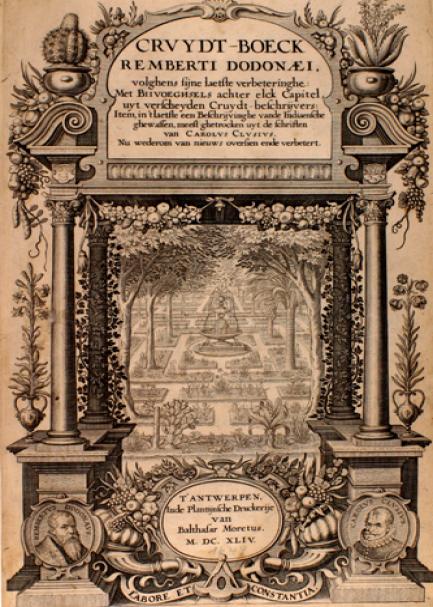 Dat er in planten veel werkzame stoffen zitten, weet ook de farmaceutische industrie die heel wat geneesmiddelen bereid met werkzame stoffen uit planten. Zo komt de naam "aSPIRine" oorspronkelijk van de moerasSPIRea die de werkzame salicylzuren in overvloed bezit. Vandaag worden deze werkzame stoffen voor de aspirine wel chemisch bereid.
Duiventhee
Dat kruidendokters vaak met een scheef oog bekeken worden als "kwakzalvers", komt omdat niet alle werking van kruiden even spijkerhard bewezen is of te bewijzen valt. Werken met kruiden balanceert vaak op de grens tussen wetenschap en (bij)geloof.
Maar moet je dan als duivenmelker bijgelovig zijn of minstens goedgelovig om kruidenthee aan je duiven te geven? Helemaal niet natuurlijk, maar je moet je ook niet alles laten wijsmaken. Daarvoor schrijven we dit artikel overigens. Ondanks alle mogelijke claims, is geen enkele in de handel zijnde duiventhee 100% wetenschappelijk onderbouwd. Maar dat moet ook niet, als de duiven er maar wat aan hebben...
Als je (bv. op internet) wat gaat lezen over kruiden en hun medicinale eigenschappen, wordt meestal in de voorwaardelijke wijze gesproken: "zou goed zijn voor", "... volgende werking wordt toegeschreven...", "x of y schrijft dat...", "er wordt ook gezegd dat...", "volgens sommigen...". Er gebeurt wel onderzoek naar de werking van kruiden, maar de resultaten zijn vaak wisselvallig en verschillen nogal eens naargelang de stelling die de onderzoeker wil bewijzen... Met alle respect voor degelijk wetenschappelijk onderzoek natuurlijk.
Op onderzoek
We gingen zelf uit op onderzoek, niet naar de werking van de kruiden of kruidenmengelingen, maar wel naar de samenstelling en presentatie van enkele in de handel zijnde duiventhees. We hebben ons wel beperkt tot de traditionele "droge" kruidenmengelingen. En als we een belangrijk merk over het hoofd zagen, willen we ons daar nu al voor verontschuldigen.
Tabel samenstelling duiventhees
Een eerste vaststelling - en dat merk je als je de bijgaande tabel bekijkt - is dat alle vermelde duiventhees bestaan uit een bonte mengeling van talrijke kruiden, gemiddeld een 20- à 25-tal verschillende kruiden. Vrijwel alle mengelingen verschillen van samenstelling: we vermoeden afhankelijk van de voorkeuren, intuïties en kennis van de samensteller(s). Op zich is daar niets mis mee, maar het illustreert wel dat dé duiventhee niet bestaat. Alle samenstellers mikken op een zo breed mogelijke waaier van werkingen en indicaties: iets voor de ademhalingswegen, iets voor de lever, iets bloedzuiverend, een natuurlijk antibioticum, iets met een antivirale werking, iets voor de nieren en ga zo maar door. Ook daar is niets mis mee. De onderliggende redenering is dat je maar beter op zoveel mogelijk vlakken tegelijk kunt werken en bovendien hebben kruidenthees een beetje de reputatie van "baat het niet, het schaadt niet". Als we morgen zelf een thee zouden samenstellen voor de duiven, zouden we net hetzelfde doen. Dus waarom het dan niet houden bij de bestaande aangeboden mengelingen? Daar hebben toch mensen met kennis van zaken aan gewerkt, research voor gedaan en over nagedacht.
Thees meervoud
We willen ons er zeker niet aan wagen om een rangorde te gaan opmaken in de bestaande duiventhees. De lezer kan de tabel raadplegen en zelf kiezen welke thees hem best bevallen. "Thees" meervoud, dat wel, want we denken dat je best meer dan één thee gebruikt. Dat kun je op verschillende manieren: mengen, systematisch afwisselen (nooit dezelfde thee 2 keer na elkaar geven) of periodiek afwisselen (om de x weken van merk veranderen). Te lang en te vaak dezelfde thee gebruiken, zouden we afraden omdat er net als bij medicatie een zekere vorm van gewenning kan optreden. Bovendien mik je door afwisseling van thees ook op een variatie van kruiden en hun weldoende invloeden.
Bereiding
Alle onderzochte duiventhees beschikken over een soort handleiding, hetzij op de verpakking, hetzij als bijsluiter. Wat de thees beloven als effect, is natuurlijk commercieel getint. Je wil tenslotte je product verkopen. Zowat alle thees beloven een betere donsrui, vitalere duiven, minder pelletjes, een betere conditie, een zachter verenpak enz. Dat is uiteraard wat elke melker graag leest.
Qua bereiding lopen de adviezen nogal uiteen: gaande van zeker niet koken tot drie minuten laten doorkoken... en van 10 minuten trekken tot een vol uur. De werkelijkheid is zo dat elk kruid eigenlijk een andere optimale bereiding kent en dat het ene kruid langere tijd nodig heeft om zijn werkzame stoffen los te laten dan het andere. Sommige (zoals hulst met zijn taaie blaren of bepaalde schorsen of wortels zou je eigenlijk moeten laten doorkoken, terwijl andere tijdens het koken meteen hun etherische oliën verliezen. De gulden middenweg zoeken is dus de boodschap. En misschien steekt het wel niet zo nauw ook.
Wat ik wel zou vermijden is om de thee te maken in plastic emmers omdat daar door het zeer hete water mogelijk wel ongewenste stoffen kunnen vrijkomen. Je kunt dus maar beter werken met een grote kookpot of een metalen emmer als je die nog vindt.
Omdat het maken van vele liters thee nogal bewerkelijk is, bieden vrijwel alle leveranciers ook vloeibaar concentraat aan waarvan je enkel maar een soeplepel aan één liter water moet toevoegen. De keuze is aan de gebruiker. Je kunt ook zelf geconcentreerde thee maken en deze dan aanlengen met water om aan de duiven te verstrekken.
Toedienen
Hoeveel en hoe vaak moet je thee geven? Ook hier zal wel niemand het fijne van weten... Zowat alle leveranciers bevelen aan om toch twee keer per week thee te verstrekken aan de duiven. Meestal raden ze ook een intensieve kuur aan van een volle week voor en na het seizoen. We denken dat dit een redelijk voorstel is. Wie een beetje melker is, ziet wel zelf hoe de duiven reageren op de thee. Als het mest bv. wat slapper wordt door sommige thees, moet je daar natuurlijk niet mee overdrijven. Vergeet ook niet dat naast de zogeheten werkzame stoffen, de thees ook een rijke bron zijn van mineralen en andere vitale bestanddelen.
En voor de prijs moet je het niet laten. Voor de prijs van één biertje, maak je al gauw enkele tientallen liter thee voor je duiven.
Disclaimer
Dit artikel heeft niet de pretentie om de enige en definitieve waarheid te vertellen over kruiden en duiventhees. Die waarheid bestaat ook niet. De beste manier om je eigen waarheid ter zake te ontdekken, is de thees aan de duiven voorzetten en kijken naar het effect. Worden de duiven er inderdaad levendiger en mooier van, dan kun je daar alleen maar blij om zijn.
En nog iets: de indicaties die in de tabel vermeld staan zijn maar een kleine en eigenzinnige bloemlezing van alle mogelijke positieve uitwerkingen die aan de diverse kruiden worden toegeschreven. Weinig daarvan is ook echt "bewezen". Maar aangezien het gebruik en de werking van kruiden een lange voorgeschiedenis hebben, zal er toch wel wat van aan zijn, mag je geredelijk aannemen.
Denk er ten slotte ook aan dat kruidenaftreksels zowel bij mens als bij dier zelden de arts kunnen vervangen als er echte gezondheidsproblemen zijn. De kans dat je bv. een wormenplaag klein krijgt met een theekuur is gering, vrezen we.
I'm a believer
In de duivensport heb je voor alles believers en non-believers. Er zijn er die zweren bij thee en er zijn er die het nooit geven of zouden willen geven... en die toch gezonde duiven hebben en goed spelen. Dat maakt duivensport zo boeiend. Maar ik hoor vooralsnog bij het kamp van de believers.