Water dat leven geeft
Als astronomen op zoek gaan naar leven op andere hemellichamen, gaan ze in de eerste plaats zoeken naar sporen van water of ijs. Zonder water is er tot nader order immers geen leven mogelijk. Dat er recent bacteriën ontdekt zijn die overleven in arsenicum, verandert daar niet echt veel aan.
De logica is duidelijk: de meeste levende wezens bestaan voor 50 tot 80% uit water. De mens bestaat voor ongeveer 65% uit water. Met minder gaat echt niet want als het vochtaandeel met 2% zakt, slaat ons lichaam al alarm. Dat alarm herkennen we als "dorst" (echte dorst dan). Uitdroging met 15 tot 20% is zelfs fataal voor mens en dier. Dat water levensbelangrijk is, kunnen we dus niet ontkennen. Maar er is blijkbaar water en water.
Water is neutraal... of niet soms?
Volgens de definitie is water een neutrale vloeistof: kleurloos, helder, geurloos en smaakloos. Ondertussen weet iedereen dat dit enkel volledig waar is voor gedestilleerd water ofwel de 100% pure H2O. Drinkwater uit de kraan kan wel degelijk een subtiele geur hebben(o.a. door de "ontsmettende" chloor die de watermaatschappij toevoegt) en wie wel eens op reis gaat weet uit ondervinding dat het drinkwater overal anders smaakt. Dit is ook zo voor bronwater en mineraal water.
Het water dat we drinken en aan onze duiven geven, is dus verre van neutraal. Het bevat mineralen (meestal redelijk veel kalk) en chloor, maar onvermijdelijk ook sporen van pesticiden, kunstmest (sulfaten), zware metalen, hormonen, chemicaliën die via de bodem en de riolering in ons drinkwater geraakten... alle filters en waterzuivering ten spijt. Moeten we ons daarover ongerust maken? Ja en neen. We moeten ons wel bewust zijn van het probleem, zonder paranoïde te worden. We mogen immers aannemen dat de normen waaraan water moet beantwoorden, gerespecteerd worden en dat alle ongewenste substanties beneden de toegestane drempelwaarden blijven.
Zelf zou je met microfilters nog heel wat rotzooi uit het water kunnen halen, maar er is meer...
Viktor Schauberger
Deze Oostenrijkse bosbouwer, die leefde tweede helft 19de eeuw, was gebiologeerd door water, in het bijzonder de manier waarop - volgens hem althans - water in de natuur door wervelingen vitaler wordt. Hij was er immers van overtuigd dat water van onbezoedelde bronnen en kabbelende beekjes niet alleen chemisch verschilde van het drinkwater uit de kraan, maar dat het ook veel vitaler was in de zin van meer energetisch geladen. Het lijdt geen twijfel dat energetisch meerwaardig water ook beter zal zijn voor de gezondheid van mens en dier.
Schauberger kreeg niet meteen de wetenschappers op zijn kant omdat je die bewuste energetische waarde of meerwaarde met de bestaande apparatuur niet kunt meten.
Blijkbaar kunnen dieren het verschil wel merken en zullen ze in niet gestresseerde toestand steevast kiezen voor water en voeder dat energetisch hoogstaander is. Maar er zijn ook mensen die bv. met pendel of wichelroede hun intuïtie kunnen aanspreken om de vitaliteit van levensmiddelen en water in te schatten.
André Bovis
De Fransman André Bovis was zo iemand en om die vitaliteit of energetische lading te kunnen meten ontwikkelde hij een eigen numerieke schaal. Deze schaal is momenteel gekend als de bovisschaal en wordt veel gebruikt door pendelaars of radiësthesisten. Een radiësthesist is een geleerd woord voor een persoon die een speciale gevoeligheid heeft voor de uitstraling van plaatsen, voedingsmiddelen, levende wezens enz. Letterlijk betekent het een persoon die stralingen (radio-) aanvoelt (esthesis).
De theorie achter de bovisschaal is dat alles een energetische uitstraling heeft met een kenmerkende golflengte.
Volgens Bovis en zijn opvolger Simonéton heeft een gezonde mens een boviswaarde van 
van 6500 tot 8000 (Angström). Alles wat een boviswaarde heeft lager dan 6500 is voor de mens verzwakkend tot zelfs ziekmakend. Omgekeerd wijzen waarden boven de 8000 op een versterkend, gezondmakend effect... Leidingwater zou gemiddeld tussen de 3000 en 5000 bovis schommelen. Niet bijster hoopgevend dus. Industrieel verpakt flessenwater scoort overigens niet beter...
Levend en dood water
Vanaf hier gaat het verhaal over water natuurlijk een stuk balanceren op de smalle grens tussen wetenschap en (bij)geloof. Ik schrijf dit niet zonder respect, want net als de meeste duivenmelkers heb ik er geen moeite mee om aan te nemen dat er heel wat meer bestaat en aannemelijk is dan wat de wetenschap kan meten of bewijzen. De manier waarop onze duiven hun thuishaven terugvinden is daar één voorbeeld van. Maar daarover ooit wel eens meer.
In het licht van het verhaal van Bovis en andere pendelaars bestaat er dus inderdaad levend (> 6500 bovis) en dood water (<6500 bovis).
Maar wat is er dan anders aan levend water?
Wolfgang Ludwig
Volgens een onderzoeker, Wolfgang Ludwig genaamd, zou water een zeker geheugen hebben. Water zou door een innerlijke structurering van de moleculen informatie kunnen bijhouden en die informatie kunnen doorgeven aan andere media: vloeistoffen vb., maar ook mensen, planten en dieren. Water zou ook onthouden waarmee het in contact was, bv. diverse verontreinigingen, zelfs nadat deze verontreinigingen door filtering verwijderd werden. Straffe zaak als dat waar is en tegelijkertijd verontrustend... Want dan is kraantjeswater misschien inderdaad minder onschuldig en neutraal dan we wel zouden willen. Dat "vloeistofgeheugen" zou ook de ontbrekende schakel kunnen zijn voor de manier waarop homeopathie werkt...
Water zou vitaler worden door contact met een sterke magnetische omgeving en door werveling in bergrivieren en watervallen. Dat zou kunnen verklaren dat sommige ongerepte bronnetjes zo'n lekker en gezond water leveren.
Niet alle wetenschappers doen dit af als pseudowetenschap en er gebeurt heus onderzoek naar de biomagnetische eigenschappen van vitaal water.
Masaru Emoto
Een Japanse onderzoeker, Masaru Emoto, ontdekte een heel originele manier om de structurele eigenschappen van water letterlijk "hard" te maken. Zijn redenering was eenvoudig: als water minder of meer gestructureerd kan zijn als informatiedrager, dan is die structurering misschien merkbaar als dat water ijs wordt... Hij ging duizenden foto's maken van waterkristallen van diverse origine en kwam tot verbluffende resultaten. Er was wel degelijk een groot verschil. Gezond water maakt namelijk veel harmonischer kristallen...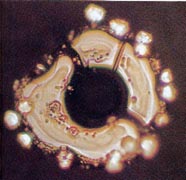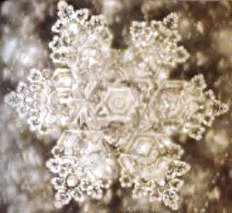 Vervuild water (links) tegenover geharmoniseerd water...
Natuurlijk heeft Emoto ook zijn tegenstanders die beweren dat het allemaal verzonnen en opgezet spel is en helemaal niet wetenschappelijk gefundeerd. We laten dat in het midden. Laten we voorlopig onthouden dat water een soort biomagnetisch geheugen kan hebben/zou kunnen hebben.
Vitaal water in de praktijk
Als er van het hele verhaal ook maar iets waar is, dan denk je als duivenmelker natuurlijk direct aan het verschaffen van beter of vitaler water aan de duiven... Maar tenzij je naast een heldere bron op een berg woont, is het niet evident om aan positief gestructureerd of gemagnetiseerd water te komen. Zoals reeds gezegd, scoort flessenwater niet beter dan leidingwater, want het heeft zoveel wegen afgelegd dat er van de originele boodschap niet veel overblijft, zeker niet als u dat water uit plastic flessen haalt.
Is er dan wel hoop om aan dat gezegende water voor de duiven te geraken? Ik betwijfel het, alle mooie beloften van sommige leveranciers van speciale apparaten ten spijt. Maar ook voor die stelling heb ik geen bewijzen...
Speurwerk
Een beetje speurwerk op internet (bv. googelen op "vitaal water") leert je dat er verschillende leveranciers bestaan die toestellen aanbieden om water vitaler te maken. Meestal gaat het om een soort buis of tube die je in de waterleiding moet plaatsen en die via magnetische of andere componenten het doorstromende water zou herprogrammeren... Mens en dier die van dat water drinken, worden gezonder en vitaler, planten en groenten groeien er gezonder en steviger van op... Het klinkt als een sprookje. Ik citeer van internet (met mijn excuses voor de povere taal): "Vitaliseren maakt water tot krachtige levenselixer zoals het bedoeld is ... Het immuunsysteem wordt krachtiger; de signaaldoorgifte in (hersen)cellen verbetert; huid en haar worden vitaler; ontgifting verloopt soepeler en beter"... enz.
Die spullen zijn natuurlijk duur, want je kunt ze niet zelf maken. Reken maar algauw 1000 euro of zo als startbedrag. En dan is je waterverbeteraar nog niet geïnstalleerd. Maar misschien kun je dat zelf.
Behalve getuigenissen zijn er natuurlijk geen harde bewijzen dat die waterverbeteraars echt werken en dan vind ik 1000 en meer euro wel duur om eens mee te experimenteren. En eigenlijk zou je dan verschillende vitalisers moeten kunnen vergelijken over een langere periode en met verschillende ploegen en een controlegroep... Het gaat een beetje mijn mogelijkheden (en ambities) te boven, maar misschien bent u nu wel geïnteresseerd...
Na contact met zo een leverancier weet ik wel dat hij klanten heeft die het effect van de water-vitaliser op wedstrijdduiven "onderzoeken". Benieuwd of ze het bekend gaan maken als het nog blijkt te werken ook. Ik vrees ervoor.
Nawoord
Het is geenszins mijn bedoeling om de draak te steken met alternatief denken over vitaal water, integendeel. Maar het is ook niet aan mij om dingen als valabel of waardeloos voor te stellen zolang ze niet bewezen zijn of zolang ik er niet zelf uit ervaring over kan getuigen, hetzij negatief of positief. Er zijn al genoeg fabels in duivenland. Maar ik sluit niets uit. Er is nog zoveel onder de zon wat we niet weten.
Michel Bommerez