Rollen in het duivinnenhok
In de reportage over Berke Willems (Eisden - Maasmechelen) kon u lezen dat Bèrke de uitvinder is van de rollen op het duivinnenhok. Natuurlijk geen rollen om op te trainen zoals renners dat doen, maar rollen om de weduweduivinnen te beletten op de grond te gaan zitten en elkaar daar het hof te maken.
Maar "Wat zijn die rollen?", "Hoe zien ze eruit?", "En waar kun je ze vinden?" zou Paul Jambers vragen.
Zelf maken
De rollen zijn niet in de handel. Ze zijn een uitvinding van Albert Willems die 's nachts liever problemen oplost voor zijn duiven en zijn hok dan te slapen. Ondertussen zijn de rollen wel al links en rechts nagemaakt en waarom niet natuurlijk. Er is zelfs een onverlaat duivenschrijver geweest die ze eerst bij Bèrke Willems ging opmeten en bestuderen en ze daarna in een artikel in Duifke Lacht voorstelde als zijn eigenste geniale uitvinding. Dat is al veel minder proper natuurlijk. Daarom geven wij de keizer wat de keizer toekomt en tot nader order is deze keizer Bèrke Willems, onze creatieve duivenvirtuoos.
Dat alles om maar te zeggen dat je de rollen zelf moet maken als je er wil. En vermits elk hok anders ingericht is en andere afmetingen heeft, is dat meer dan normaal. Gelukkig is het maken van rollen niet eens zo moeilijk.
Zo gefixt
Het principe van de rollen is vrij simpel: op een redelijk lichte houten kader monteer je op twee overstaande kanten een serie geperforeerde metalen steunen waar je soepel draaiende rollen in monteert. De afstand tussen de rollen moet dermate zijn dat er geen duiven tussen kunnen - dus pakweg een 5-tal cm - en de rollen moeten zo soepel draaien dat een duif er niet kan op blijven zitten. Een beetje het principe van de molentjes boven sommige eetbakken.
We bekijken even de onderdelen stuk voor stuk.
Houten kader(s)
Omwille van de hanteerbaarheid maak je best de kaders niet te groot. Je wil immers de rollen gemakkelijk kunnen plaatsen, verwijderen en stapelen. Kleinere kaders zullen ook net iets lichter zijn om mee rond te zeulen. Bij Willems zijn ze ongeveer 100 op 70 cm, maar je moet dat natuurlijk zien in functie van het hok waar ze moeten komen.
Meet dus eerst zorgvuldig de binnenmaten van het duivinnenhok en bereken dan hoe je de te bedekken bodem het best kunt verdelen in hanteerbare stukken.
TIP 1: maak de kaders niet te passend. Neem een redelijk ruime speling zodat het plaatsen van de kaders geen puzzelwerk wordt: rondom 2 cm en tussen de kaders nog eens 1 cm is niks teveel. Daar kunnen toch geen duiven tussen en het maakt het leven achteraf veel gemakkelijker.
TIP 2: neem geen te dik of te zwaar hout en maak als het kan de kaders even groot zodat het niet uitmaakt welke kader je waar plaatst. 
Voor de kanten waar de ijzers op komen volstaat een multiplex van bv 12 mm dik en zowat 7 cm hoog. Per kader heb je zo twee stukken nodig. Om deze aan elkaar te zetten neem je een grenen lat of een reep dikkere multiplex van pakweg 2 op 4. De opstaande kanten maak je op de volle lengte van de gewenste kader en van de dwarse stukken doe je zoveel af als de opstaande multiplex dik is (x 2).
Schroef het geheel nu ineen.
Van bovenaf gezien ziet je kader er zo ongeveer uit: Opstaande steunen
De opstaande metalen steunen koop je kant en klaar in de winkel.
Je gebruikt hiervoor gegalvaniseerde voorgeboorde metalen latjes die je in elke brico of doe-het-zelf vindt. De beste maat hebben de ijzers van 125 mm lang met 4 gaten.

TIP 3: als je deze steunijzers per stuk of per twee koopt, zijn ze onmenselijk duur. Omdat je er toch heel wat nodig hebt, loont het de moeite om die dingen per doos te bestellen in een speciaalzaak.
Koop er ineens de juiste schroefjes bij. Deze mogen niet te lang zijn vermits de opstaande kanten niet al te dik zijn. De kopjes moeten dik genoeg zijn zodat ze niet door de gaten vallen.
Om de steunen te plaatsen moet je een beetje rekenen...
Neem de lengte van de opstaande kanten van je kader en trek er 7 cm af. Deel nu het resultaat door 8. 
bv. Als je kader 100 cm lang is, deel je 100 - 7 = 93 door 8. Dat geeft 11,6.
Rond de uitkomst af naar de dichtste eenheid, in ons geval 12. Dat betekent dat je aan elke kant 12 + 1 = 13 ijzers zult plaatsen.
Maak nu de deling opnieuw, maar deel nu door het afgeronde resultaat:
93 cm : 12 = 7,75 cm
Die 7,75 cm wordt de afstand tussen de middellijnen (schroefgaten) van de opstaande ijzers.

Meet nu op de opstaande kant van de kader 35 mm (de helft van die 7 cm die je daarnet aftrok van 100). Trek een streepje en verleng het met een winkelhaak. Teken dan verder om de 77,5 mm een streep. Vervang uiteraard die 77,5 mm door de waarde die je zelf berekende voor jouw rollenkaders.
Als je het juist deed, kom je op het einde terug uit met een rest van 35 mm. Als dat niet klopt, moet je opnieuw berekenen en meten.
Monteer nu met twee korte schroefjes op elke lijn een steunijzer zodanig dat de kortere helft (ongeveer 5 cm) op de plank ligt. Teken hulplijntjes zodat alle ijzers op dezelfde hoogte staan.

En nu de rollen
Voor de rollen neem je de kleinste maat afvoerpijp, binnendiameter (ongeveer) 30 mm.
Zaag die in stukken zodat ze ruim tussen de ijzers passen. Aan weerszijden 2 mm speling is ok.
Om de buizen tot rollen te maken steek je aan beide kanten een houten stop. Deze ga je zelf maken. Zaag een ronde steel in schijfjes van ongeveer 20 mm. Uiterste voorzichtigheid is geboden als je deze schijfjes machinaal zaagt.
TIP 4: Ga met een restje van de afvoerbus naar een tuincentrum of zo en zoek een ronde houten steel die perfect past/spant in de pijp. 
Voor je ze in de rollen klopt, kun je best perfect in het midden van elk schijfje een gaatje voorboren (diameter 1,5 of 2 mm). 
TIP 5: Om eindeloos meten te vermijden, kun je hiervoor best een houten mal maken waar de schijfjes perfect in passen. Bevestig de mal correct op de kolomboor en je bent vertrokken om allemaal perfect gecentreerde gaatjes te boren.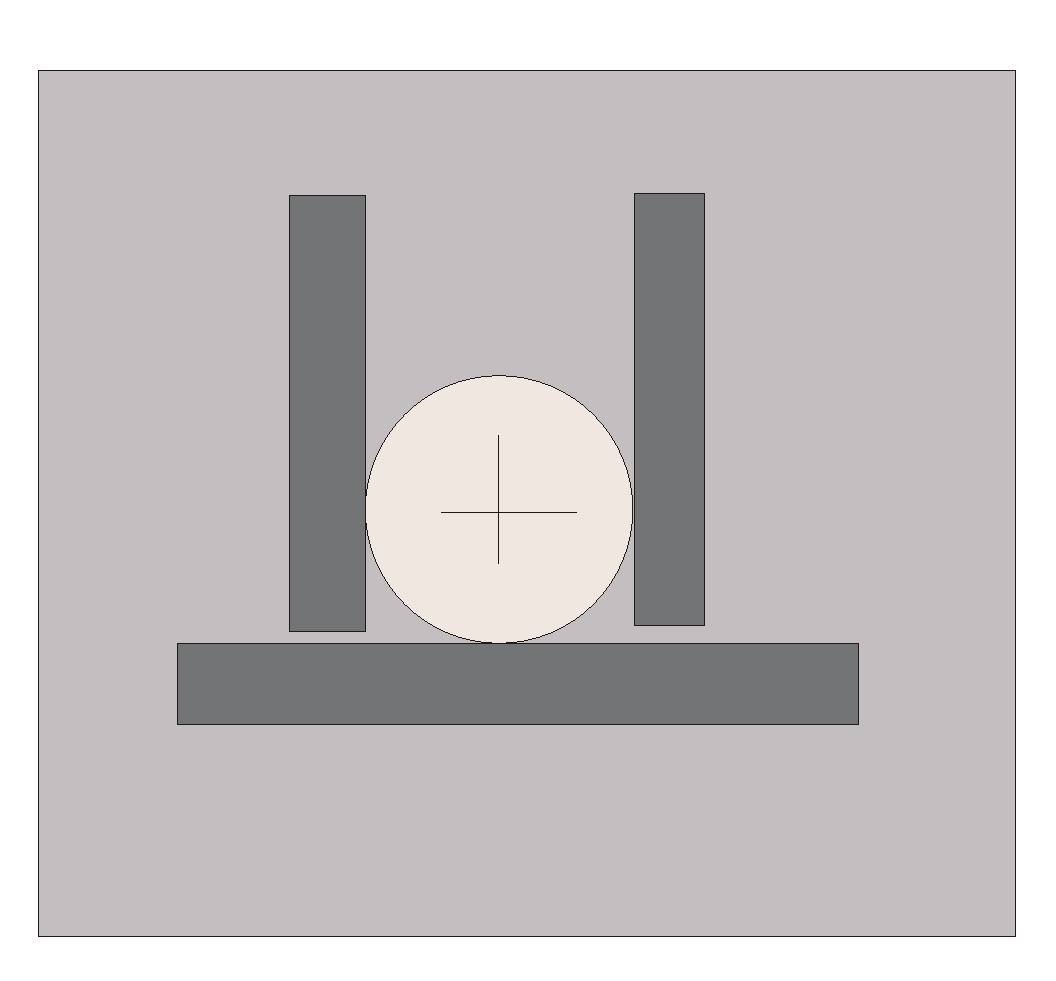 We zijn er bijna
Als alles goed gelopen is, moet je nu nog enkel de rollen monteren in de bovenste gaatjes van de steunijzers. Gebruik hiervoor schroeven van bv. 35 x 3 (35 mm lang, 3 mm diameter). 
TIP 6: Kies schroeven die onder de kop eerst een stuk zonder schroefdraad hebben: dat draait lekkerder.

 Zo ziet het eindresultaat eruit.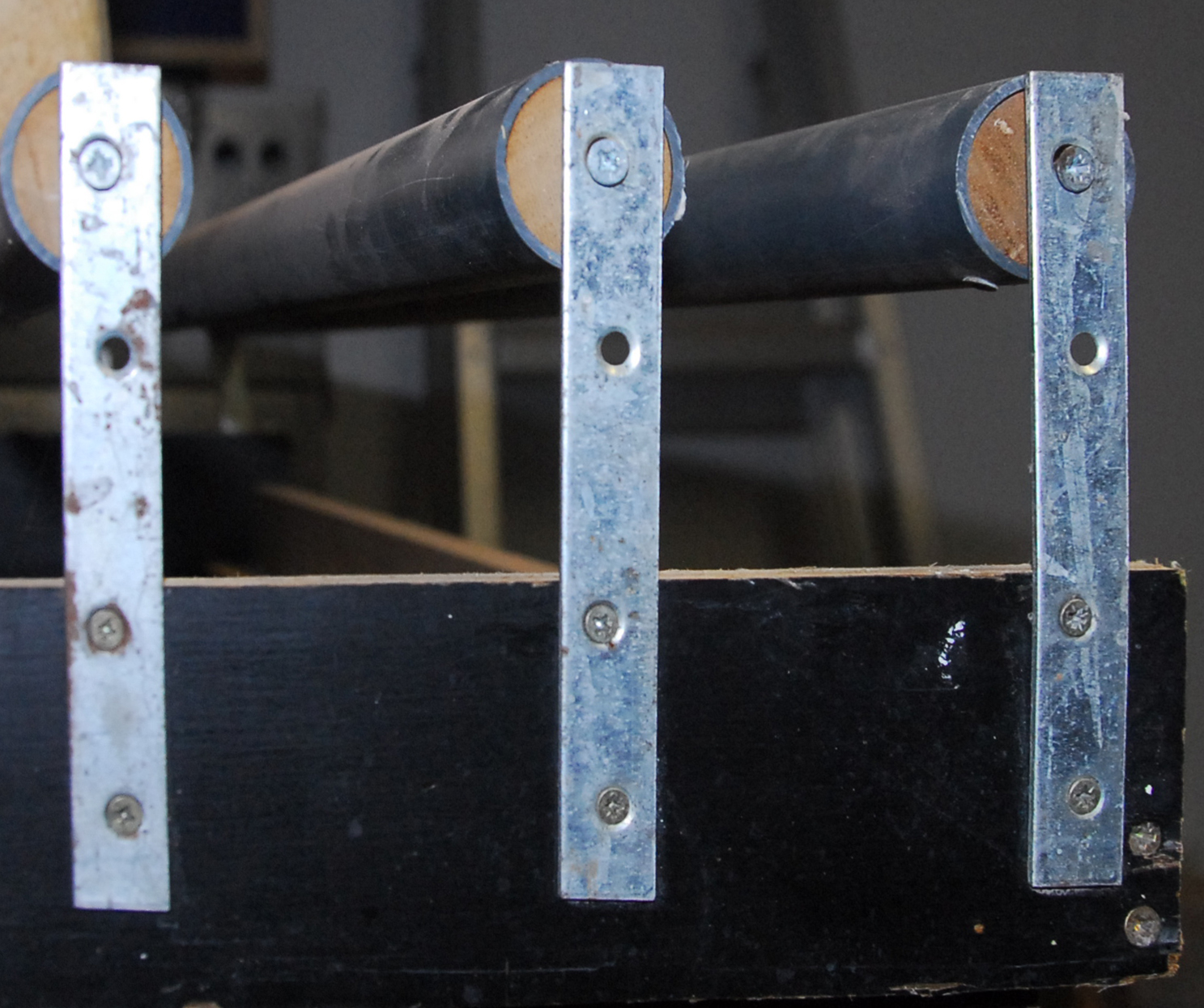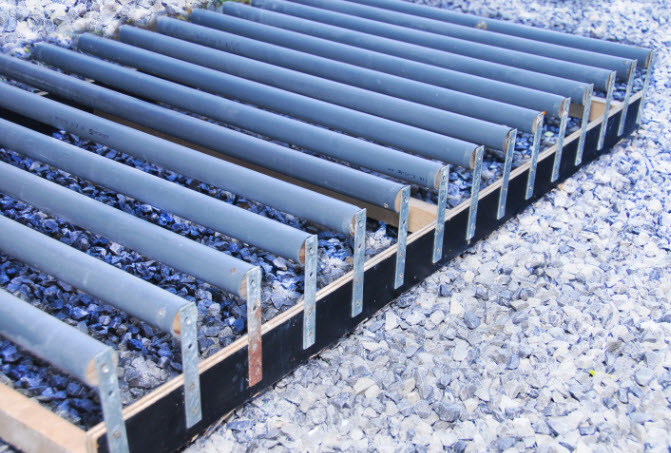 Gebruik
Iedereen heeft begrepen dat de rollen dienen om te verhinderen dat de duivinnen op de grond gaan zitten. Uiteraard kun je er ook niet zelf op lopen. Daarvoor is de constructie veel te licht. Het betekent echter ook dat er geen drinkpotten op het hok staan. De duiven krijgen tweemaal daags eten en drinken in de aanpalende volière of gang en daarmee moeten en kunnen ze het doen.
Bèrke geeft nog een laatste tip mee.
TIP 7: plaats nooit alle roosters ineens op het hok. 
Geef de duivinnen de kans om de rollen te leren kennen. Plaats eerst één kader en laat de duiven ondervinden dat dit geen veilige bodem is. Plaats in een tweede fase alle kaders min één zodat er nog een uitwijkmogelijkheid is op de grond. Plaats ten slotte ook het laatste kader zodat er nergens meer een onderkomen is op de vloer.
Het is belangrijk dat er niet (veel) meer zitplaatsjes (kapellekes) zijn dan duiven. Dit verhindert dat duivinnen toch gaan op en af vliegen in het hok. Ze moeten stilzitten. Dat ze elkaar zien is volgens Willems geen bezwaar, integendeel.
Opbergen
Buiten het vliegseizoen neem je de roosters uiteraard weg. Gelukkig is het ontwerp ook daarop voorzien. De kaders met rollen laten zich namelijk perfect stapelen: een recht, één averechts.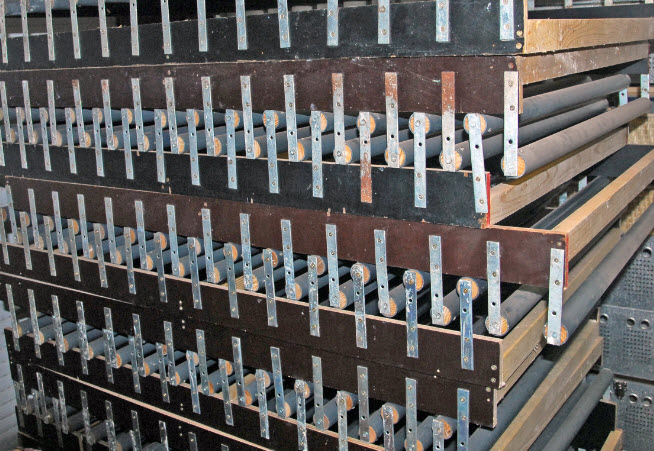 We zegden het al Bèrke Willems is een fenomeen en een ongeëvenaarde pragmaticus.
Michel Bommerez