Appelazijn
Appelazijn is "in" bij duivenmelkers. Appelazijn heeft een uitstekende reputatie bij duivenmelkers. Is die reputatie terecht? We denken het. 
Appelcider
Eigenlijk zou je moeten spreken van appelciderazijn, zoals je spreekt van wijnazijn. Appelazijn is namelijk gemaakt van appelcider of vergist appelsap.
Het Franse woord vin-aigre vertelt ons wat azijn eigenlijk oorspronkelijk is: zure wijn. Als je wijn een tijdlang blootstelt aan de lucht, gaat hij zuur worden. Jammer voor de wijn. Bacteriën uit de lucht halen de laatste suikerresten en het grootste gedeelte van de alcohol uit de wijn en zetten die om in azijnzuur. Als de wijn - of ondertussen de azijn - zuur genoeg is, sterven de bacteriën een zure dood.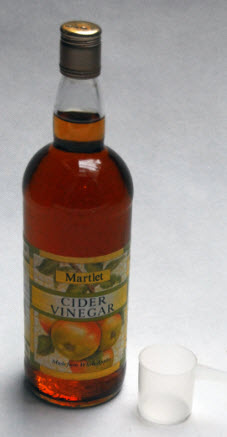 De bacterie die verantwoordelijk is voor de verzuring is de acetobacter of azijnbacterie. Wanneer azijn het einddoel is, kun je natuurlijk het proces bespoedigen door zelf azijnbacteriën toe te voegen. Het is bekend dat deze bacterie zich graag ophoudt in houtkrullen. Bij het azijn maken worden bij voorkeur beukenkrullen gebruikt omdat die vrij neutraal zijn van smaak.
Gek genoeg dacht men lange tijd dat het de "zuur"-stof was uit de lucht die zorgde voor de verzuring. Dat was vóór een meneer Pasteur het bestaan van bacteriën ontdekte.
An apple a day...
"Elke dag een appel houdt de dokter weg" zegt het Engels spreekwoord. Appels zijn een gezond fruit en een rijke bron van vitaminen, mineralen, antioxidanten, enzymen, pectines enz. Niemand die daaraan twijfelt. Laat ons er dan maar van uitgaan dat veel van die kwaliteiten van appels ook nog te vinden zijn in appelazijn. Mooi meegenomen.
Appelazijn is een natuurproduct en moet dat ook blijven, ook als ciderazijn in bidons van 5 liter wordt aangeboden. De kwaliteit en de keuze van de grondstoffen mogen daar niet onder lijden, ook niet onder de concurrentiedruk op de prijs.
Echte groene bronnen claimen dat alle kwaliteiten toegeschreven aan appelazijn vooral van toepassing zijn op biologisch geproduceerde en onbehandelde appelazijn. Alle industriële verwerkingsprocessen zoals filteren, pasteuriseren, raffineren... zouden de kwaliteiten alleen maar doen verminderen: Het product ziet er misschien "beter" en zuiverder uit maar puur natuur is beter, zeggen ze. Als ze gelijk hebben, dan kun je inderdaad maar beter kiezen voor een niet gepasteuriseerd en ongefilterd product, ook al ziet het er niet uit.
Daarnaast bestaat natuurlijk de veel goedkopere chemisch bereide "witte" azijn, maar daarover hebben we het hier niet.
Rolmops en E-coli
Azijn is vanouds gekend als conserveermiddel: augurken, zilveruitjes, haringen enz. ze blijven alle geruime tijd goed in azijn.
De werking is simpel: het zure milieu gaat het bederf tegen omdat bacteriën en schimmels zich nu eenmaal niet lekker voelen in een zuur midden. En dan heb je al meteen een hint voor één van de basiswerkingen van appelazijn bij onze duiven: het creëren van een zuur milieu in de krop waarbij veel kiemen en parasieten het hachje laten. Besmetting door de opname van ziektekiemen via de voeding en het drinken wordt dus meteen afgeremd bij het gebruik van een (voldoende zure) azijnoplossing. Het moet daarvoor zelfs geen appelazijn zijn.
In duivenmiddens is ondertussen vrij algemeen aanvaard dat regelmatig gebruik van (appel)azijn doeltreffend is tegen tricho en de meeste bronnen noemen in één adem zijn gunstige werking om E-colibesmetting in te dijken.
Dosis
Algemeen wordt een dosis voorgehouden van 1 soeplepel per liter drinkwater. De verschillende schrijvers, producenten, veeartsen lijken het wel als evangelie van elkaar over te nemen. Terecht of niet, dat laten we in het midden. 
Uiteraard is daar nooit grondig onderzoek naar gedaan. Daarvoor is de markt te klein en het product te goedkoop. Wetenschappelijk onderzoek is niet gratis en ook vaak niet zo onbaatzuchtig als de naam zou laten vermoeden. Zo werkt dat nu eenmaal.
Wettelijk gesproken moet azijn minstens 4 % azijnzuur bevatten om azijn genoemd te mogen worden. Gemiddeld bevat voedingsazijn zo een 6% zuur, soms meer (maar zelden meer dan 10%), soms minder.
Azijn heeft een zuurgraad (pH) tussen 3 en 4. Niet zo extreem zuur als je weet dat bier ook ergens rond de pH 4 uitkomt. Cola is zelfs zuurder dan de gemiddelde azijn, maar door de vele suiker of zoetmiddelen proef je dat niet, maar het zuur is er wel. 
Volgens diverse bronnen zouden de meeste bacteriën het beste floreren in een vrij neutraal milieu, maar kunnen ze een zure omgeving tot pH 5 verdragen. Om bacterieremmend te zijn mag je het drinkwater dus nogal fors aanzuren. Welke dosis azijn daarvoor nodig is, is moeilijk te zeggen: alle azijn is verschillend en alle water is verschillend (bv. weinig of veel kalk die een deel van het zuur "buffert").
Ik zou dus durven zeggen: als over het algemeen goede resultaten bereikt worden met één soeplepel per liter water, dan zal dat wel een werkbare dosis zijn. Reken maar dat je daarmee voor een grote gieter water (12 liter) in de buurt van een half bierglas azijn komt. Dan kom je met een liter azijn niet zo ver als je wat duiven hebt.
Hoe vaak? Ook daar lijken de violen prachtig op elkaar afgestemd: een paar keer per jaar een kuur van een week en voor de rest een tweetal keer per week.
Evenwicht
Dat azijn in het drinkwater ook de zuurgraad in darmen zou verhogen, daar geloven we niet zoveel van. De darmen regelen hun eigen zuurgraad. En volgens heel wat bronnen zou appelazijn eerder zorgen voor een beter zuur-base-evenwicht in het lichaam dan te zorgen voor verzuring. Verzuring is trouwens helemaal geen gewenste toestand. Verzuring is immers een ongewild gevolg van grote inspanningen en overvloedige inname van voedsel. Verzuring leidt tot een overmaat aan o.a. urinezuur en tot een verslakking van het lichaam. Slakken zijn in dit geval onverteerde voedselresten (vaak eiwitten) die zich ophopen en zich o.a. als zoutverbindingen vastzetten in het lichaam op plaatsen waar ze niet horen. Met name de bindweefsels en de darmwand zijn er gevoelig voor. Typische verzuringsziekten zijn jicht, cellulitis, nierproblemen, mineralentekort, spierpijnen, krampen, allergieën... - de lijst is nog lang - en dat is toch niet wat we beogen met appelazijn in de drinkpot. Gelukkig maar zorgen appelazijn en ook zure vruchten zoals citroen  in het lichaam eerder voor minder verzuring. Dat klinkt al beter.
Meer nog: talrijke bronnen beweren dat appelazijn juist goed is voor het "ontslakken" van het lichaam en het afdrijven van urinezuur.
Vermageren
Van onze duiven hebben we graag dat ze mooi rond staan, maar zelf willen velen wel graag een kilootje afvallen. Azijn heeft al eeuwen de reputatie de vetassimilatie in het lichaam te regelen. Ook vandaag zit het heel vaak (soms zelfs in poedervorm) in vermageringsmiddelen. Niet dat we daar reclame willen voor maken.
Appelazijn heeft de reputatie om de spijsvertering te bevorderen en heel speciaal de vet-stofwisseling zou erdoor gereguleerd worden. Voeg daaraan toe dat het gebruik van appelazijn voor de maaltijd het hongergevoel stilt en dan zie je de ponden er zo afvliegen.
En dan zie ik misschien toch wel enig nut voor de duiven ook, al was het maar voor die paar duivinnen die gemakkelijk aanvetten in het stille seizoen.
En als er toch een lezer is die het zelf ook wil proberen: men raadt aan om eens per dag (liefst voor een maaltijd en als je maag het verdraagt 's morgens vroeg) één à twee soeplepels appelazijn te mengen in een glas niet te koud water met eventueel wat honing.
Een wondermiddel?
Natuurlijke azijn zou al bekend geweest zijn bij de Babyloniërs en de Egyptenaren, dus al vele duizenden jaren. Ook in China zou azijn reeds zo een 5000 jaar geleden gebruikt zijn als smaakmiddel en als natuurlijke weldaad. De oude Griekse genezers roemden al de kwaliteiten van azijn.
Als je een beetje googlet rond appelazijn, dan geloof je niet wat je leest. Het is zowat goed voor en tegen alles. We noemen in alfabetische orde: aambeien, acne, allergie, artrose, astma, brandend maagzuur, broze nagels, diarree, dof haar, eczeem, galstenen, gewrichtspijnen, haaruitval, hoge bloeddruk, hoge cholesterol, hoofdroos, huidproblemen, infecties, insectenbeten, jeuk, kanker, keelpijn, koliek, lage broeddruk, nierstenen, oogwallen, opvliegers, osteoporose, overgewicht, reuma, schimmels, slapeloosheid, spataderen, stramme spieren, suikerziekte, verkoudheid, vermoeidheid, voedselvergiftiging, winderigheid, zonnebrand... Je vraagt je af waarvoor het niet goed is. Wel hebben we het hier duidelijk over ziekten en ongemakken bij mensen.
Maar de duiven zijn ook goed af met appelazijn. Naast het reeds genoemde gunstig effect op trichomoniase en mogelijks op E-coli, zou appelazijn ook goed zijn voor: een gave huid zonder pelletjes, een glanzend en zijdezacht verenpak, ontgifting van het bloed, betere spijsvertering, evenwichtige darmflora, betere donsrui, ontslakking van het lichaam, vastere mest... Appelazijn maakt de duif levendiger (tonicum), versterkt het afweersysteem, remt de groei van bacteriën en schimmels, bouwt de conditie op en zou zelfs mogelijks het aantal verliezen gunstig beïnvloeden... Alstublieft.
Zelfs als maar een klein percentage van het bovenstaande klopt, dan is het toch al de moeite om er voor te gaan.
 (G)een wondermiddel
Net zo min als van look of van biergist of van thee moet je van appelazijn mirakels verwachten. Er bestaan geen wondermiddelen, ook niet in de duivensport. Maar veel elementen die elk een procentje verschil maken, kunnen samen een wereld van verschil maken, het verschil bijvoorbeeld tussen een duif in conditie en een duif die alleen maar niet ziek is.
En als appelazijn ervoor zorgt dat je minder moet kuren, dan is dat op zich al een weg naar conditiewinst.
Maar toch, zoals geldt voor zoveel andere natuurmiddelen: ze dienen eerder om weerstand op te bouwen en om ziekten te voorkomen dan om zieke duiven te genezen. Als de duiven al ziek zijn, dan kom je met appelazijn wellicht een beetje te kort. Het blijft dus wijs om niet al te licht te geloven dat alleen appelazijn mensen of dieren tegen ernstige ziekten kan vrijwaren. Een gezonde scepsis mag altijd.
Cynisme
Ergens las ik echter deze wel erg cynische opmerking: "hoe meer je leest over appelazijn, hoe meer je verwonderd bent dat er nog ergens mensen doodgaan". 
Voor alle duidelijkheid: ik deel dit soort cynisme niet.
Michel Bommerez