Heilaarde
Misschien heb je er nog nooit van gehoord of misschien heb je er nooit bij stilgestaan, maar er bestaat zoiets als "heilaarde". Heil-aarde, aarde die heil brengt in de zin van welbevinden, gezondheid, aarde die "heelt". Anderen zeggen "heelaarde" of spreken van geneeskrachtige klei of leem.
Was ist Löss?
Het is al tientallen jaren te koop in winkels van natuurproducten, maar het is ondertussen ook opgedoken in het arsenaal van de duivenmelker: Heilerde. Dat de naam in het Duits is, komt vermoedelijk alleen omdat het voor het eerst door een Duitse producent aangeboden werd aan de duivenmelker.
Heilaarde is een verzamelnaam voor zowel weldoende klei als löss of leem. De löss of klei wordt gedroogd en in poeder gestampt of gemalen maar ondergaat verder geen enkele extra behandeling. Niks chemicaliën dus of bewaarmiddelen of wat dan ook: enkel de pure zeer zuivere grond met zijn rijke variatie aan mineralen en sporenelementen. Voor de eenvoud gaan we het hier verder over geneeskrachtige "klei" hebben.
De klei voor gezondheidsdoelen wordt op een diepte van minstens 10 meter maar nog vaker op dieptes tot 60 meter gewonnen om de heilaarde zo zuiver mogelijk te hebben en vrij van ongewenste afzettingen of insijpelingen (door bv. vervuiling, meststoffen, pesticiden, zure regen enz.).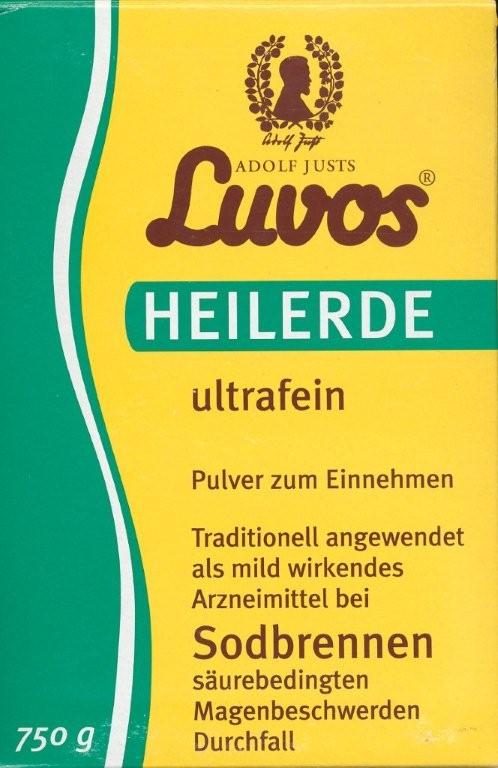 Vaak wordt klei uit Frankrijk gebruikt. Groene klei is de meest gebruikte soort en zou ook een van de meest werkzame zijn.
Klei is er genoeg: 15 % van de aardkorst bestaat uit klei.
Klei of leem
De namen klei, leem, zavel, zand enz. hebben minder te maken met de soort grondstof of samenstelling van de grond dan wel met de korrelgrootte van de grondsoort.
Specialisten onderscheiden drie korrelgroottes: lutum is alles wat in doorsnee kleiner is dan 0,002 mm, zand is alles wat groter is dan 0,053 mm en alles daartussen is silt.
En nu komt het: grond met meer dan 25% lutum noem je (lichte) klei; grond met meer dan 50% lutum is zware kleigrond. Leemgrond bevat overwegend silt, zandgrond vooral zand, maar daar was u zelf al achter.
Hoe fijner de grondstructuur, hoe "zwaarder" de grond en hoe minder doorlaatbaar voor bv. water. Anders gezegd: klei kan veel meer water vasthouden dan zand.
Kleilagen ontstaan door afzetting door water en wind van uiterst fijn erosiemateriaal. Elke kleisoort is daarom anders van samenstelling en van kleur gaande van bijna wit over geel, oker, rood, bruin, groen tot grijs en zelfs bijna zwart. De ene klei is dus duidelijk de andere niet.
Mineralen
Het hoofdbestanddeel van klei en leem is silicium of kiezelzuur en dit in talrijke chemische verbindingen. Klei bevat 40% of meer van dat silicium. 
Silicium ontleent zijn naam aan silex (vuursteen), maar het is ook de basisstof van zand, graniet, kiezel enz. maar ook nog van bv. cement, porcelein, glas enz. En vergeten we natuurlijk niet de rubberachtige veelzijdige kunststof silicone en het streng gezuiverde silicium (silicon zoals in Silicon Valley) gebruikt als grondstof voor de microchip.
Silicium is na zuurstof het meest voorkomende element in de aardkorst. We zullen dus niet snel zonder vallen.
Silicaten, dat zijn verbindingen van silicium, zuurstof en een of ander metaal vormen zelfs 90% van de aardkorst. Een van die verbindingen is aluminiumsilicaat, een combinatie van aluminium, silicium en zuurstof. Dat is meestal het belangrijkste ingrediënt van klei.
Verder bevat klei magnesium, zwavel, natrium, chloor, fosfor, mangaan, calcium, ijzer, kalium, zink, vanadium, nikkel, gallium, strontium, zirconium, cadmium enz. Een rijke bron dus aan alle mogelijke mineralen en sporenelementen.
Klei is zelfs rijk aan enzymen die het opnemen van de mineralen door levende organismen nog extra bevorderen.
De missing link
Of oude culturen nu vier of vijf oerelementen erkenden als bouwstof voor al wat bestaat, aarde (klei) was daar altijd bij (samen met o.a. water, vuur en wind en soms met metaal, hout, ether...).
En wie zich nog de scheppingsverhalen herinnert, weet misschien nog dat God de eerste mens Adam boetseerde uit "rode aarde" of klei en er daarna het leven in blies. Dat staat zo in de Bijbel en in de Koran. Adama zou volgens sommigen etymologisch zelfs "rode aarde" betekenen. We moeten dat scheppingsverhaal niet al te letterlijk nemen natuurlijk, maar volgens wetenschappers zit er misschien wel een serieuze grond van waarheid in. Wetenschappers zijn het er immers over eens dat het eerste primitieve leven ontstond in een "oersoep" waar klei een belangrijk bestanddeel van was.
Zo verwonderlijk is dat ook weer niet als je weet dat het chemisch element kiezelzuur (Si) - het hoofdbestanddeel van klei - in de tabel van Mendeljev vlak onder het element koolstof (C) staat en er dus kenmerken van deelt. Koolstof (carbon) zullen een deel lezers zeker kennen als het element dat het verschil maakt tussen anorganische en organische scheikunde. Dit even terzijde.
Om maar te zeggen dat het wellicht niet zo uit de lucht gegrepen is dat ook silicium als grondstof een zekere "intelligentie" bezit. Dat is althans wat de verdedigers van de geneeskrachtige klei vertellen van klei. Sommigen spreken zelfs van de missing link tussen de organische en anorganische wereld...
Klei absorbeert en adsorbeert
Neen dat is geen typefoutje: absorberen is opslorpen (zoals een spons water opslorpt) en adsorberen betekent eerder iets als "binden" en immobiliseren. Klei kan beide. We zegden al dat klei enorm veel water kan opslorpen. Maar volgens de believers zou het in het lichaam van mens en dier ook tal van ongewenste stoffen binden en afvoeren: ziektekiemen, parasieten, zware metalen... Noem het maar op.
En eigenlijk zijn het niet enkel believers die dat beweren. Onderzoeken toonden aan dat klei in water met ziektekiemen tot bijna 100% de ziektekiemen immobiliseert en laat neerslaan in het bezinksel. De bacteriën worden wel niet gedood, maar dermate aan handen en voeten gebonden dat ze machteloos worden. Interessante vaststelling natuurlijk als ze dat ook in het lichaam van de duif zouden doen: ziektekiemen adsorberen en afvoeren via de uitwerpselen. 
Maar dat is maar één van de beloofde uitwerkingen van inwendig gebruik van klei.
Diarree
Praktijkervaringen wijzen uit dat inname van klei (opgelost in een beetje water) zeer doeltreffend is tegen diarree. Niet enkel bindt de klei de ziektekiemen (zoals hierboven beschreven), maar de klei vormt ook een beschermlaagje op de binnenwand van de geïrriteerde darmen.
Klei wordt overigens reeds met dat doel gebruikt in de biologische veeteelt. Het krijgt dan wel een moeilijkere naam (bv. smectiet) maar in wezen gaat het om dezelfde stof.
Maar ook uitwendig kan klei heel wat absorberen. Zo zou klei wonderen doen bij het behandelen van open wonden, zelfs wonden die de klassieke geneeskunde niet dicht krijgt, maar ook van zweren en zwerende wonden. Kleipoeder of kleiomslagen zouden het "kwaad" uit de wonden halen en de genezing miraculeus bespoedigen. Ook hier zou de klei een "intelligente" beschermende laag vormen.
L'Homme et l'Argile
"Mens en Klei"... Neen, we gaan er geen taalspelletje van maken. L'Homme et L'Argile is gewoon de naam van een Franse non-profit organisatie die zich tot doel stelt om kleitherapie bekend te maken en aan te leren in landen en bij volksgroepen waar geen geld is voor reguliere geneeskunde. De successen die ze aanhalen en beschrijven op hun website laten er geen twijfel over groeien dat klei in talrijke gevallen echte genezing kan brengen: de reeds genoemde diarree en open wonden, maar ook huiduitslag, arthritis, verstuikingen, brandend maagzuur en noem maar op...
Wil je hier meer over lezen, neem dan een kijkje op hun uitgebreide website http://lhomme.et.largile.free.fr. Er staan talrijke getuigenissen en verhalen op over het succesvol gebruik van klei, ook bij huisdieren. De website is wel overwegend in het Frans.
Modderbaden en Kneippkuren
Talrijke dieren nemen spontaan modderbaden om zichzelf te genezen en als je een hond laat kiezen, gaat die liever drinken aan een modderige plas dan aan een - in onze ogen - nette drinkbak met leidingwater. Wellicht weten dieren nog instinctmatig dat klei (aarde, slijk) goed is voor hun gezondheid.
Maar ook mensen nemen modderbaden in gespecialiseerde kuuroorden. Het zou relaxend werken en goed zijn voor huidaandoeningen, maar ook tegen reuma en andere ongemakken.
Ook de Beierse pastoor Sebastian Kneipp, die zichzelf met natuurgeneeskunde genas van tbc, was een voorstander van het gebruik van klei.
Modderbaden zijn wellicht niet direct een aangewezen middel voor onze duiven, maar misschien wil jij zelf ook wel gezond zijn of blijven.
En de duiven dan?
Wat brengt dit hele verhaal nu bij voor de duiven?
Klei kun je in twee vormen kopen: als poeder en als brokken. Voor gebruik bij de duiven ben je beter af met het (duurdere) poeder omdat je dat bv. onder het eten kunt mengen. Door zijn sterk absorberend vermogen maakt het duiven voer met "iets" op (olie, aminozuren enz.) veel sneller droog dan bv mineraal poeder of biergist. Eén gram kleipoeder kan ongeveer 10 cc water opslorpen!
Maar, er is een grote maar bij: gebruik kleipoeder niet samen met medicatie want de "intelligente" klei zal de medicatie grotendeels neutraliseren en onwerkzaam maken.
En waar is klei dan wel goed voor? Een (onvolledige) opsomming:
Zoals gezegd is klei in staat om heel wat ziektekiemen te binden en af te voeren. Dit zou zelfs ook zo zijn voor parasieten en wormeieren.
Klei haalt toxines en afvalstoffen uit het lichaam en voert deze af.
Klei beschermt de slijmvliezen en darmwand en is een aangewezen middel bij diarree.
Klei regelt het zuur-base-evenwicht en kan aldus de verzuring na een grote inspanning sneller wegnemen.
Een klompje klei in de drinkpot ontsmet het water en bindt de overtollige chloor uit het leidingwater.
Klei is een rijke bron aan mineralen en sporenelementen en biedt deze aan in een vorm die gemakkelijk opgenomen wordt.
Klei is goed voor de botvorming.
Klei ondersteunt de goede werking van lever en nieren.
Klei zou zelfs zeer doeltreffend zijn bij acute vergiftiging.
Opgelet
Klei is van nature een steriel product dat bovendien zeer stabiel is. Het passeert ongewijzigd het maagzuur, zonder op te lossen zoals bv. kalk wel doet.
Maar: de klei houdt door absorptie en adsorptie zoveel dingen vast dat je zelf moet opletten waarmee je de klei in contact brengt. Alle kleideskundigen waarschuwen om geen metalen gerei te gebruiken bij het mengen van klei. Door een ionenuitwisseling is de kans namelijk groot dat de klei metaalionen (ook zogenaamde zware metalen) gaat binden en daardoor zijn helende kracht ziet verminderen. Contact met hout of glas (of glazuur) kan geen kwaad. Een drinkpot in email is ok, maar niet meer als de email beschadigd is! 
En nog iets: als je zelf klei wil gebruiken voor zeg maar gezichtsmaskers of kleiomslagen, onthoud dan zeer goed dat je klei maar één keer mag gebruiken. Gebruikte klei bevat namelijk zoveel negatieve "informatie" dat je die maar beter kunt wegdoen. Tweemaal dezelfde klei gebruiken, dat is zoiets als het recupereren van gebruikte kattenbakkorrels om het met wat zin voor overdrijving te zeggen.
Baat het niet...
Net zoals de verhalen van look, appelazijn en nog van die wonderbaarlijke veelzijdige natuurmiddelen, is het verhaal van de heelaarde of geneeskrachtige klei bijna te mooi om waar te zijn. En weer is het voor een stuk een kwestie van geloven of niet geloven.
Of alle beloofde uitwerkingen van klei waar zijn en bewezen zijn, weet ik niet. Maar de getuigenissen op websites en in boeken zijn zo overtuigend dat er toch zeker iets moet van aan zijn. Dat willen wij althans graag geloven.
Wie hierover nog meer wil lezen kan googelen op "geneeskrachtige klei", "heilaarde", "groene aarde", "Heilerde", "Argile qui guérit" enz.
Je vindt geneeskrachtige klei in de natuurwinkel (soms redelijk duur) of in de meeste dierenspeciaalzaken (ook niet echt goedkoop... zowat 15 euro voor 1 kg). 
Als je zelf klei wil delven, vergewis je er dan van dat je een plaats vindt waar nooit sproeistoffen of kunstmest gebruikt zijn. Anders doe je misschien meer kwaad dan goed.
Michel Bommerez