Pigeon à l'ail
Look is een vast ingrediënt geworden in het voedselregime van menige duif. Look heeft een onverwoestbare reputatie als bloedzuiverend middel en als natuurlijk antibioticum, vandaar. Is dat vertrouwen in knoflook terecht? Dat willen we hier uitzoeken.
Popeye
Als je het allemaal goed bekijkt, zou Popeye misschien beter look eten dan spinazie. Look is doorheen de geschiedenis immers bekend als versterkend krachtvoedsel.
De Egyptische slaven verslonden naar verluidt tonnen knoflook bij het bouwen van de piramiden. Griekse atleten gebruikten het als bevorderaar van hun conditie bij atletiekwedstrijden. Romeinse gladiatoren aten look als spierversterker... Niet helemaal onterecht overigens, want look bevat kolossaal veel waardevolle voedingsstoffen. Denk dus de volgende keer maar twee keer na vóór je voor look je neus ophaalt... Zo bevat look o.a. de vitamines A, B1, B2 en C; de mineralen en sporenelementen: kalium, zwavel, jodium, selenium, germanium, silicium, ijzer, koper, zink, magnesium; daarnaast 17 aminozuren waaronder alle essentiële. En dan hebben we het nog niet gehad over de bestanddelen die de gezondheid gunstig kunnen beïnvloeden.
Look is en was populair in alle werelddelen en alle culturen. Er zijn verwijzingen naar look in alle "grote boeken": de Bijbel, de Koran, de Edda, de Talmud enz. Ook de Chinezen, Japanners en Hindoes roemden vele eeuwen geleden al de gunstige werking van look.
Allium sativum
De geleerde naam voor look is Allium Sativum. De toevoeging sativum betekent zoveel als 'tam', 'eetbaar' (zoals in tamme kastanje). 
Iedereen kent look of voluit knoflook als de sterkriekende knol die uiteenvalt in deelknollen of teentjes. Knoflook is verwant aan andere bekenden zoals de ui (allium cepa), bieslook (allium schoenoprasum), prei (allium porrum) en sjalot (allium ascalonicum) die allemaal een Latijnse naam hebben beginnend met allium. Kenmerkend voor de hele familie is dat ze veel zwavelhoudende stoffen bevatten en goede smaakmakers zijn. De hele familie look behoort tot de eetbare tak van de lelieachtigen.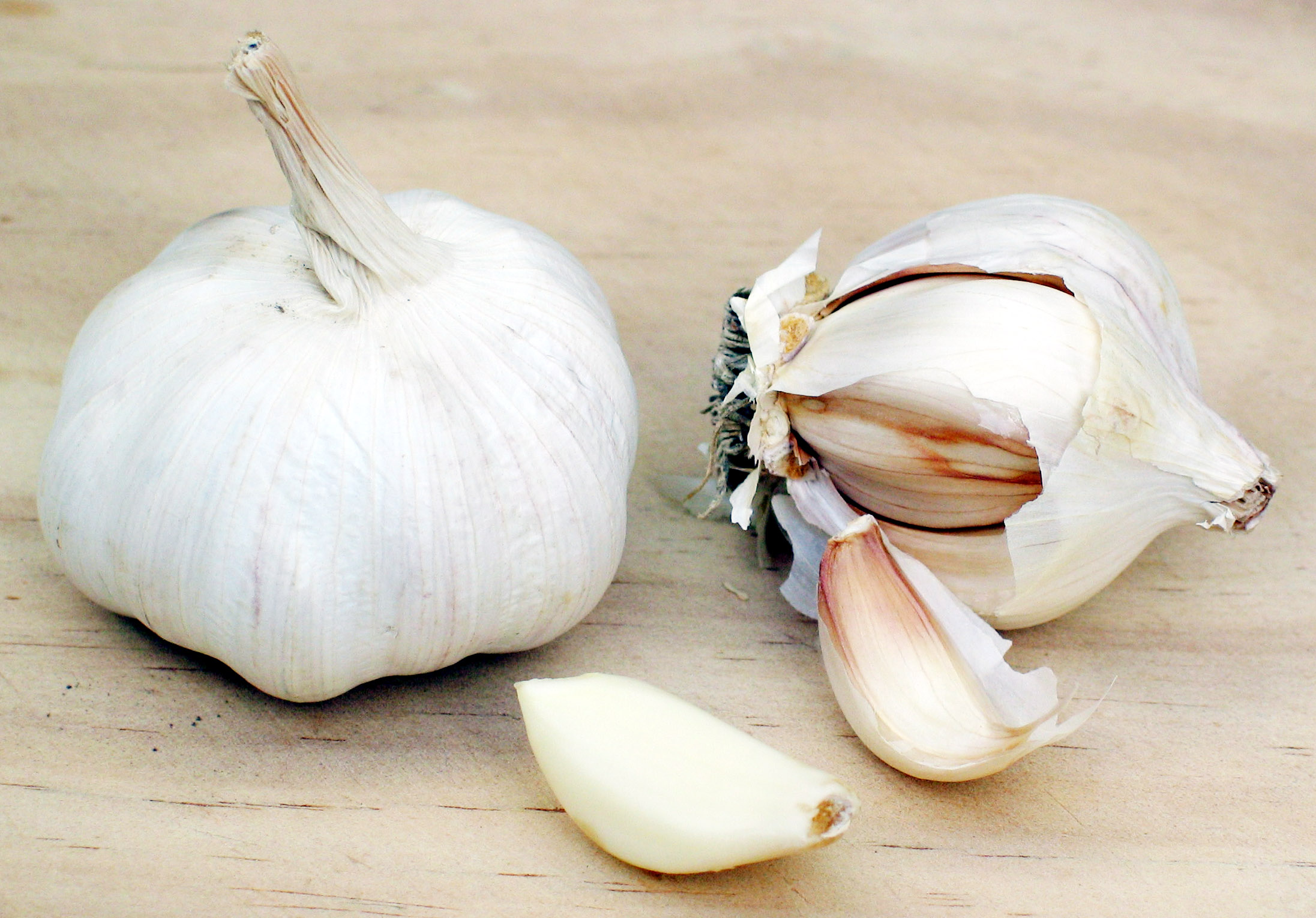 Allicine
De meest gezochte en meest werkzame stof in look zou de allicine zijn. Allicine is een zwavelverbinding, die feitelijk een afbraakproduct is van alliine (zonder de c). Allicine ontstaat uit alliine wanneer de knoflookcellen gekneusd worden door snijden, kauwen, persen enz. Allicine is op haar beurt een zeer onstabiele stof, die snel afbreekt waardoor de look zijn kracht beetje bij beetje verliest bij eender welke bereiding waarbij de geur van de look vrijkomt (persen, snijden, koken of stoven...). Dit roept al bedenkingen op bij de werking van diverse lookpreparaten (in de vorm van olie, poeder, dragees enz.). Die kunnen waarschijnlijk niet  op tegen de zuivere look in zijn originele toestand. Maar op die vraag komen we nog terug.
Panacee
Look is een panacee of wondermiddel. Van Dale omschrijft een panacee als "denkbeeldig algemeen geneesmiddel, middel tegen alle kwalen". Het venijn van deze definitie zit natuurlijk in het woordje "denkbeeldig". De dikke Van Dale wil niet gezegd hebben dat look echt een beetje voor alles goed is. Nochtans is dat de reputatie van knoflook: een wondermiddel tegen zowat alle mogelijke kwalen en ongemakken: antibioticum tegen tal van ziektekiemen, met een gunstige invloed op hoge bloeddruk, te hoge cholesterol, hart- en vaat ziekten, kanker, bloedzuiverend en noem maar op. We bekijken eens enkele van die gepretendeerde krachten van look en kijken of we er ons profijt mee kunnen doen bij de duiven...
In vitro
In 1858 al ontdekte Louis Pasteur dat knoflook in een petrischaaltje de omringende bacteriën vernietigde. (een petrischaal  is een glazen schaaltje voor het gecontroleerd kweken van micro-organismen in laboratoriumomstandigheden). Dit is daarna herhaaldelijk door onderzoek bevestigd, ook in vivo (op levende wezens). Van Hellemont zegt hierover in zijn Fytotherapeutisch Compendium: "Allicine is in vitro in een verdunning van 1/100.000 nog actief tegen stafylokokken, streptokokken, intestinale bacteriën en zelfs tegen schimmels." Bemerk en passant de hoge verdunning waaronder look nog werkzaam is!
In de jaren zeventig heeft een dierenarts, dr. Jos Cornelisse, wetenschappelijk aangetoond dat rauwe knoflook salmonella's doodt in het spijsverteringskanaal.
Ondertussen is aangetoond dat knoflook heel wat bacteriën aankan. Zo zou knoflook werkzaam zijn tegen o.a.
staphylococcen en streptococcen (ettering, ontstekingen)
brucella (veroorzaakt brucellosis: gewrichtspijnen, milt- en leverzwelling, uitputting...)
vibrio (de cholerabacterie)
escherichia coli (de zogenaamde colibacillen die normaal in de darm van de mens en gewervelde dieren voorkomen maar die bij woekering in verschillende organen ontstekingsprocessen kunnen doen ontstaan)
salmonella (de bacillen die intestinale ziekten, voedselvergiftiging en paratyfus veroorzaken)
verder nog tal van ziekteverwerkers waaronder shigella, campylobacter, klebsiella, citrobacter, mycobacterium, clostridium, pseudomonas, helicobacter pylori, legionellabacterie... en nog van dat fraais.
Allicine zou de synthese van RNA in al deze bacteriën onderdrukken, waardoor ze zich niet normaal kunnen verdubbelen en dus geen verder gevaar meer kunnen opleveren.
Hart- en vaatziekten
Knoflook zou daarnaast bij de mens een gunstige werking vertonen in het hele spectrum van de hart- en vaatziekten:
atherosclerose (degeneratie van de binnenwand van aderen, zogenaamde aderverkalking)a
hoge bloeddruk (hypertensie)
angina pectoris (beklemmende pijn in de hartstreek)
te hoge cholesterol
diverse bloedsomloopstoringen, spataderen en aambeien
trombose (een bloedstolsel aan de binnenzijde van een bloedvat)
embolie (verstopping van kleine slagaders of haarvaten) 
hartzwakte, versnelde hartwerking (tachycardie)
Kortom look is bloedverdunnend, lost bloedstolsels weer op, is bloeddrukverlagend, cholesterolverlagend en vaatverwijdend... de natuurlijke vijand dus van heel wat beschavingsziekten.
Misschien zijn de opgesomde ziekten niet direct kwalen die je met duiven vereenzelvigt, maar er is geen enkele reden waarom look ook niet bij duiven zou zorgen voor zuivere bloedvaten en een gezonde bloedsomloop. En by the way, je zou warempel zelf al meteen look gaan opnemen in je eetgewoonten als je dat nog niet doet...
Longen en luchtwegen
In tegenstelling tot antibiotica, zou look ook werkzaam zijn tegen sommige virussen die o.a. de luchtwegen bedreigen. Je moet in dit verband look wel eerder zien als een voorbehoedend middel dan als een geneesmiddel.
Regelmatig gebruik van look zou dus helpen om o.a. astma, bronchitis, (kink)hoest, griep, keelpijn, longemfyseem, tuberculose, sinusitis en difterie te voorkomen. Een hele boterham. En alsof dat niet genoeg is, heeft look ook de reputatie van slijmoplossend te zijn, een expectorans dus of een middel dat het loskomen van draderig slijm bevordert.
Nog niet alles
En het is nog niet alles: look zou ook urineafdrijvend zijn, darmparasieten zoals spoelwormen verdrijven, de werking van de schildklier en de pancreas regelen, het zou gunstig werken tegen nierstenen, artritis verlichten, de eetlust wekken, de werking van de galblaas bevorderen enz. Volgens verschillende medische tijdschriften zou knoflook ook tumoren doen afnemen, zelfs kwaadaardige. Een lookteentje tegen een pijnlijke kies zou de tandpijn verlichten...
Echt een "wondermiddel" tegen vrijwel alle kwalen, we zegden het al.
En alsof het allemaal nog niet genoeg was, ontdekten Japanse onderzoekers recent dat look een zekere anabole werking heeft bij ratten. De look verhoogde o.a. de productie van testosteron en noradrenaline bij de dieren. Chinese onderzoekers ontdekten dan weer bij jonge atleten dat de consumptie van look de spieren beschermt tegen intensieve inspanningen...  Maar dat wisten de Grieken en Romeinen al.
Wat hebben je duiven eraan?
Je kunt natuurlijk niet alle heilzame effecten van look voor mensen zomaar naar duiven transponeren. Maar toch is de kans reëel dat ook duiven erg gebaat zijn met de toediening van look. Denk maar aan de antibiotische werking, het verdrijven van wormen, de zuivering en bescherming van de bloedsomloop, de stimulerende en versterkende invloed, de bescherming van de luchtwegen etc.
Bij kleine huisdieren zou volgens sommigen het regelmatig toedienen van look via de voeding zelfs werkzaam zijn tegen ectoparasieten die wellicht op de vlucht gaan voor... de geur. 
Wat houdt je nog tegen om een lookaanhanger te worden?
Toedienen
Look is in de (duiven)handel vooral beschikbaar als lookolie. Lookolie is een basisolie (bv. soyaolie) waarin een tijdlang look is geweekt om zijn werkzame stoffen af te geven aan de olie. Aan de geur te oordelen lukt dit ook aardig. Lookolie is een olie en niet oplosbaar in drinkwater. Je moet het dus toedienen op het voer. De dosis ligt in de buurt van 1 soeplepel per kg voer dat je dan droog maakt met mineraal poeder of biergist. Je kunt het één of twee keer per week toedienen.
Lookextract is gestabiliseerd looksap. Dit is wel wateroplosbaar en kan dus wel via het drinkwater toegediend worden. Niet langer dan 1 dag laten staan. Maar je kunt het even goed en misschien zelfs beter op het voer geven zoals de lookolie.
Dit looksap kun je gemakkelijk zelf maken met een centrifuge om vruchtensap te maken. Om het te bewaren kun je het in kleine porties (ijsblokjes bv.) invriezen of het inmaken in flessen met toevoeging van 10% alcohol (of een equivalent van 20% jenever) tegen bederf door gisting.
Je kunt ook de lookteentjes gewoon bloot in de drinkpot gooien of ze persen met een lookpers.
Look is ook een belangrijk bestanddeel in de zogenaamde duivensoepen waar de look vermengd en gekookt wordt tot een geconcentreerd gezondheidselixir  samen met ui, kandijsuiker, kruiden, aluin, jodiumtinctuur enz. Je vindt genoeg recepten van deze "Suppe" op internet en je kan het ook kant en klaar kopen.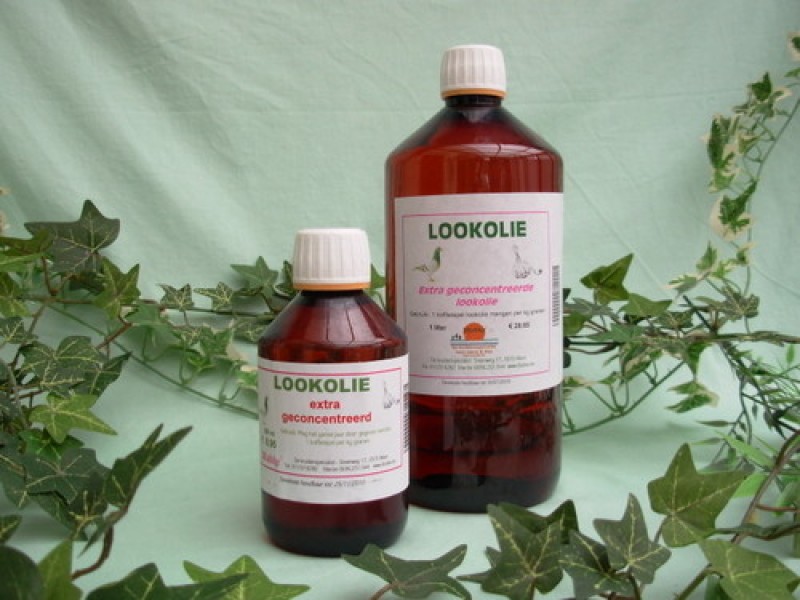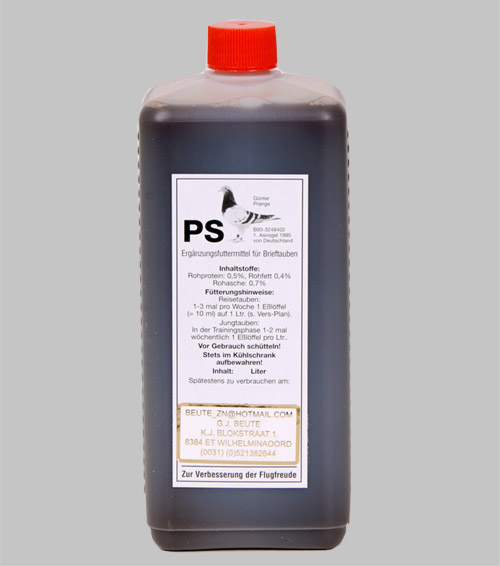 Daarnaast zijn er ook droge lookproducten. Maar deze vragen enige reserve: lookpoeder bevat nog slechts een fractie van de originele alliine en vrijwel geen allicine. De werkzame stof allicine is immers moeilijk te stabiliseren in gedroogde lookpreparaten.
Eigenlijk kun je het zo stellen dat look die niet meer erg "naar look" ruikt, ook zijn heilzame werking verloren heeft. De geur is immers onlosmakelijk verbonden aan de voornaamste werkzame stof de zwavelrijke allicine.
Nog een bedenking: look is een heel krachtig en veelzijdig product maar werkt vooral op lange termijn. Voor therapeutische doelen mag je al gauw rekenen op een half jaar regelmatig gebruik. Als middel om een bestaande goede conditie te bewaren heb je natuurlijk meteen profijt aan een portie knoflook.
Zelf telen
Look kun je gemakkelijk zelf telen als je een vrij hoekje in de tuin hebt. Je mag de teentjes reeds heel vroeg op het jaar planten (februari). Elk teentje levert in de zomer een volledige knol op. Plant de teentjes op ongeveer 12 cm van elkaar zodat de punt juist onder de grond zit. Planten met de punt naar boven natuurlijk. De knollen zullen misschien niet zo groot zijn als die van het grootwarenhuis, maar de kwaliteit zal zeker niet moeten onderdoen. Je kunt de knollen oogsten als het loof verdord is. Als er bloeistengels verschijnen, mag je die wegknippen. Ze vragen veel voedingsstoffen die dan niet naar de knollen gaan.
Verse lookbollen bewaar je best op een koele en donkere plaats. Daar blijven ze weken of zelfs maanden goed. De koelkast is niet nodig en zelfs af te raden. Koel en donker bewaren is overigens ook de regel voor alle andere lookproducten.
Trop is te veel
Meer is niet altijd beter en matigheid is een mooie deugd, ook in het verstrekken van gezonde producten aan je duiven. Als je alle positieve kanten van look bekijkt, zou je kunnen gaan denken dat je het beter elke dag kunt geven om de duiven in supergezondheid en superconditie te krijgen. Mis. Overdaad schaadt - ook hier.
Er zijn ervaringen die erop wijzen dat te veel look voor kleine huisdieren op de duur giftig wordt. Het bloed kan immers ook te dun worden en overmatige look zou op de duur de werking van de rode bloedcellen afremmen. Vooral katten en honden zouden look niet zo goed verdragen en risico lopen op bloedarmoede... Maar ook  volièrevogels kunnen volgens getuigenissen van vogelliefhebbers lijden onder te veel en te vaak look... En dan is de stap naar duiven niet meer zo groot.
Opgelet
Look kun je zelf ook uitwendig gebruiken voor het behandelen van o.a. zweren, eczeem, schimmels. Het is echter niet aangeraden om grotere huidoppervlaktes met puur looksap in te smeren daar dit de huid kan "verbranden".
Als tegenindicaties voor het gebruik van look zijn ook vermelde de mogelijke interferentie met bloedverdunners, nierproblemen en zwangerschap. 
En nog een ultieme tip: drink nooit zelf looksap of aftreksels van look 's morgens op een nuchtere maag. Dit is niet dodelijk, maar je kunt wel met duizeligheid en doodsangsten in spoedgevallen arriveren.
Disclaimer
Niet alles wat hier aan info verzameld is, is wetenschappelijk bewezen. Er is wel veel ernstig onderzoek gedaan naar de geneeskrachtige werking van knoflook en er is vooral de eeuwenoude ervaring van gunstige effecten van lookgebruik overal ter wereld. 
Maar het is zeker niet aan ons om knoflook bij mens of dier aan te prijzen tegen ernstige ziekten of als veilig alternatief voor een bezoek bij de man met de witte jas, hetzij arts of veearts.
De eerlijkheid gebiedt ons ook te vermelden dat er ook zeer kritische publicaties zijn die de heilzame werking van look ten gronde in twijfel trekken en als "vermeend" afdoen. Net als de definitie in van Dale overigens. Dus blijf je beter zelf ook maar voldoende kritisch wanneer dit artikel je even heeft doen dromen dat alle gezondheidsproblemen met de duiven bij toverslag opgelost zullen zijn met dit natuurlijke en goedkope "wondermiddel"...
Michel Bommerez
p.s. Oh ja, look houdt ook de vampiers van je hok :)