Vrede op aarde... aan alle mensen van goede wil
Kerstmis 2015
Vind jij dit ook een nogal selectieve - of moet ik zeggen discriminerende - wens van vrede? Zelf heb ik daar in het verleden nooit zo bij stil gestaan. Wat wensen we dan aan de mensen die niet van goede wil zijn... of zijn die er niet?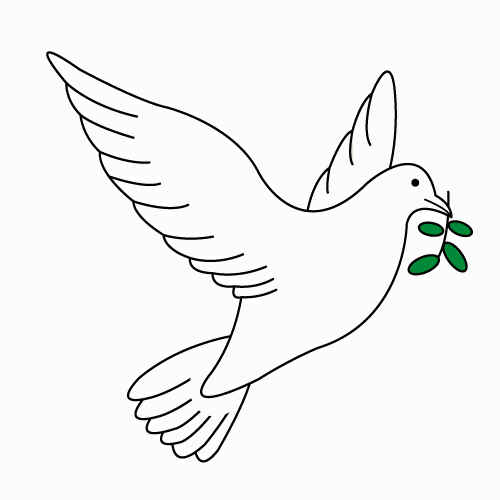 Symbool van de vrede
De duif is het symbool van de vrede...
Wij duivenliefhebbers weten wel beter: als je al eens twee duivers hebt zien vechten tot bloedens toe of als je al eens een bende duiven hebt zien tekeer gaan op een weerloze duif, dan ga je toch twijfelen aan die vredesymboliek. En dan zwijg ik nog van het huiselijk geweld gepleegd door een duiver die opgesloten is met een duivin waarmee het niet klikt. Ook 'bekvechten' kan volgens mij alleen maar uit het duivenwereldje komen. Ken je overigens de vervoeging van bekvechten? Probeer maar eens... "Zij hebben bekgevochten" klinkt niet zo goed. Ik zal je helpen: ik bekvecht - ik bekvechtte - ik heb gebekvecht. Het klinkt nog niet mooi, maar zo staat het in Van Dale.
Dat vredesgedoe met die duiven komt nog voort van het bijbels verhaal van Noah. Je weet nog wel: de man die op aanraden van God een kolossale ark bouwt en er van alle diersoorten een koppeltje meeneemt. Als daar ook olifanten en nijlpaarden en neushoorns bij waren, moet dat een soliede ark geweest zijn. De bedoeling was om de grote overstroming - beter bekend als de zondvloed - door te komen en daarna alle soorten zich opnieuw te laten voortplanten en de populatie te herstellen. Een beetje zoals een duivenmelker die totaal verkoopt en zijn beste kweekkoppel houdt en na een jaar terug 300 duiven heeft. Maar even terug naar die overstroming; misschien was het wel een tsunami. Je zal waarschijnlijk denken: och die verhaaltjes in de bijbel moeten we toch niet te letterlijk nemen. En gelijk heb je, maar toch: verhalen over een zondvloed komen ook in andere culturen voor daar in de regio. Het zou dan wel eens kunnen dat er in de streek rond de Zwarte zee toch vage herinneringen leefden aan een werkelijke extreme natuurramp. Maar terug naar Noah. Het verhaal gaat verder dat Noah na zowat 40 dagen te hebben rondgedobberd een duif liet vliegen. De keuze was voor de hand liggend: duiven waren er toen al voor bekend dat ze ho(n)kvast zijn en terugkeren na de nodige toeren te maken. En ook de duif van Noah keerde terug, met een jonge olijftak in de bek. Waarschijnlijk wilde het beest een nestje beginnen maar voor Noah was het een teken dat het water genoeg gedaald was zodat er weer leven mogelijk was buiten de ark en dat de leefomgeving weer "vredig" was: dreigingsniveau 1. Vandaar dus de symboliek.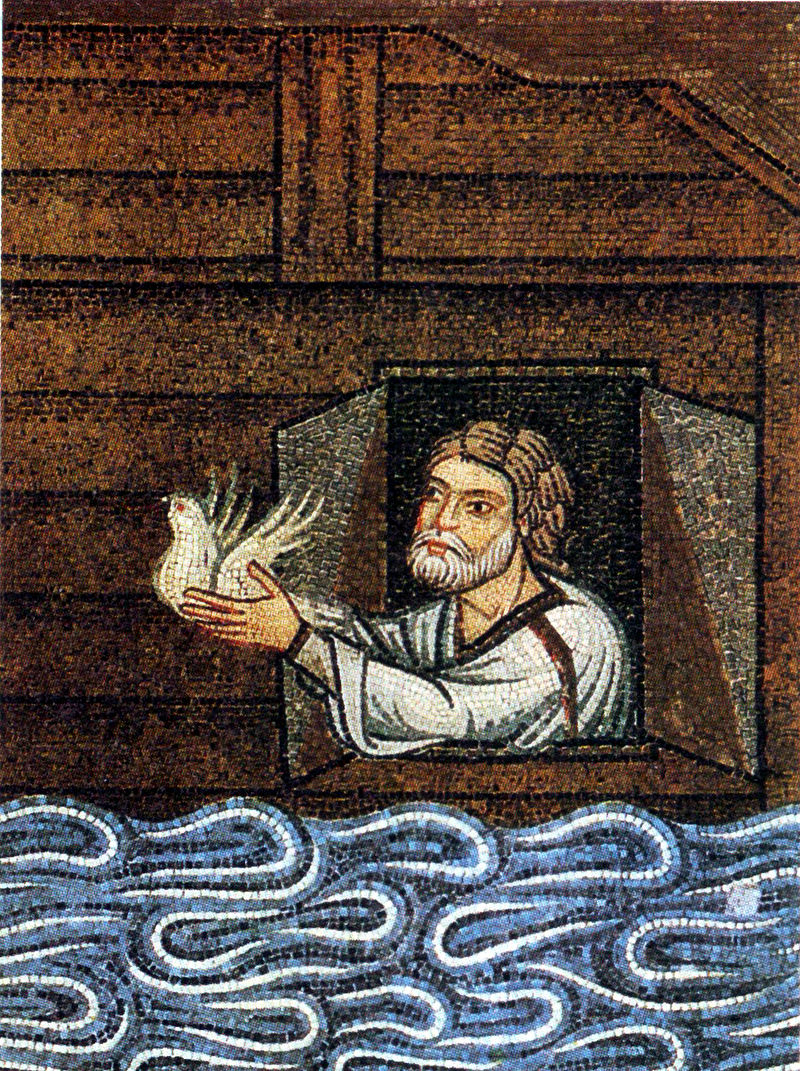 Karstmis is diejen dag da ze nie schiete
Wannes Vandevelde.
Kerstmis
Straks is het Kerstmis, feest van de vrede. Naast het feit dat Kerstmis - zoals de duivensport? - al lang is ingepalmd door de commerce, hebben we er vandaag moeite mee om te geloven dat Kerstmis 2015 veel waarborgen biedt voor vrede... De terreuraanslagen liggen nog vers in ons geheugen en de dagelijkse nieuwsuitzendingen drukken er ons met onze neus op dat wereldvrede nog lang niet voor morgen is. Zelfs Franciscus, onze sympathieke paus van Rome, ziet het maar somber in: "Kerstmis wordt een schijnvertoning" liet hij zich recent ontvallen. "Er zullen lichtjes zijn, feestjes, prachtig versierde bomen en dito kerststalletjes... En dat terwijl de hele wereld oorlog blijft voeren," ging hij verder.
Maar wat is "vrede" nu eigenlijk?
Traditioneel en in het gewone taalgebruik is vrede het tegengestelde van oorlog. En wat is dan "strijden voor de vrede"? Kan dat wel... kun je geweld uitroeien met geweld...?" Ik durf eraan te twijfelen. Waarmee ik hier niet wil gezegd hebben dat we extremisme en terreur maar zijn gangetje moeten laten gaan. Heb ik een alternatief voor de stoere oorlogsverklaringen van de geprikkelde Westerse staatshoofden? Niet echt. Eens goed gaan praten met IS: daar gelooft zelfs de grootste naïeveling niet in. Met mensen die hun eigen extreme vooringenomen ideeën geloven, valt niet te praten. Je kunt net zo goed proberen om mensen uit een sekte te krijgen door eens goed met ze te praten. Hoe meer argumenten je aanbrengt, hoe meer ze zich gaan ingraven in hun eigen stellingen. Maar IS is niet het enige probleem natuurlijk. Alleen hebben we nu hun hete adem heel dichtbij in onze nek gevoeld...
De kleine vrede
Die andere Franciscus (van Assisi) zei in één van zijn preken "De kleine vrede brengt de grote vrede." Zonder zelf te willen preken, denk ik dat hierin een grote waarheid schuilt. Als we eens zelf beginnen met te leven "als broers en zusters", komen we misschien al een heel eind vooruit. Als Turkije een vliegtuig van de Russen neerhaalt omdat het luchtruim geschonden werd, is dat toch enkel maar een schaalvergroting van een tafereel waarbij buurman de wijkagent erbij haalt omdat jouw duiven op zijn dak gesch... hebben.
Eind november overleed protestzanger Armand (Herman van Loenhout). Hij was één van mijn favorieten destijds en ik heb net als velen van mijn generatie meegezongen met "Ben ik daarom te min omdat je pa in een grotere kar rijdt dan de mijne..." Het was de tijd van mei 68, de tijd dat Boudewijn de Groot zong van "Welterusten mijnheer de president... slaap zacht" Maar, daar waar Boudewijn zeer snel van het label protestzanger af wilde, bleef Armand de maatschappijkritische hippie tot zijn laatste adem. Waartoe ik wilde komen: in één van zijn liedjes zingt Armand
Ja we komen erachter, ook al gaat het maar traag,
we vernietigen de aardbol, ook wij maar al te graag.
De oorlog woedt in jezelf...
Eigenlijk denk ik dat hij hetzelfde zegt als Franciscus: wil je vrede, begin dan bij jezelf.
Het zit in de natuur en in de genen van de mens dat je wil overleven, dat je vooral voor jezelf en voor je naasten het beste wil. Dat wil ook die duiver die zijn rivaal tot bloedens toe de ogen dicht timmert... Alleen wordt er van "mensen" verwacht dat ze hun ego - lees het eigenbelang, de eigen vooroordelen, het grote gelijk halen - ook opzij kunnen zetten om hogere waarden en idealen te dienen. Je wil het beste voor jezelf... ja, maar niet - nooit - ten koste van de andere of van het algemeen belang.
En zo gaat het lied van Armand verder:
Want de agressie woedt in jezelf
In je onophoudelijk streven
Naar status door middel van geld
Jij domme vechtersbaas:
't Gaat erom wat je bent, niet wat je hebt
Daar zit je er naast.
Mensen, gemeenschappen, volkeren, leiders verwarren heel vaak "hebben" met "zijn": meer geld "hebben", meer macht "hebben", meer grondgebied "hebben", een mooiere auto "hebben", meer gelijk "hebben"... terwijl je uiteindelijk pas geluk vindt als je tevreden "bent", bemind en liefdevol "bent", innerlijk vredig "bent"...
Mag ik tot slot ook nog afronden met een citaat uit een (ander) lied van Armand?
Ik ben ook maar een mens, en mijn allerdiepste wens
Is een beetje vriendelijkheid...
Vervang vriendelijkheid door vrede en dan heb je mijn oprechte kerstwens: een beetje vrede... voor iedereen en niet enkel voor de mensen van goede wil.