Theo Vandevelde, Oudenburg
Veel kweken, veel testen...
Je kunt in de geschiedenisboeken van de Belgische duivensport geen 10 bladzijden omdraaien zonder de naam Vandevelde tegen te komen: Theo Vandevelde uit Oudenburg. Een naam als een klok, wellicht nog belangrijker voor de geschiedenis van de Belgische rassen en zeker beter na te sporen dan Karel Wegge. De "Janssen A." van zijn tijd zeg maar. Iedereen wou van zijn duiven inbrengen en iedereen lukte ermee... Maar daar houdt de vergelijking op. Vandevelde was met name geen inteler: Je kon bij Theo Vandevelde gerust twee duiven halen die genetisch nauwelijks iets met elkaar te maken hadden.
Waregem
Theo - voluit Theodoor - Vandevelde was geboren en getogen in Waregem. Zijn broer Alfons zou daar overigens zijn hele verdere leven blijven en er een bloemenzaak uitbaten. Je leest wel eens dat Waregem de wieg was van het Vlaamse fondspel en dan komen namen bovendrijven als de Gebroeders Delombaerde, de broers Vandevelde, Delantsheere en Blondeel (die overigens vooral duiven had van Fons Vandevelde en van Delombaerde).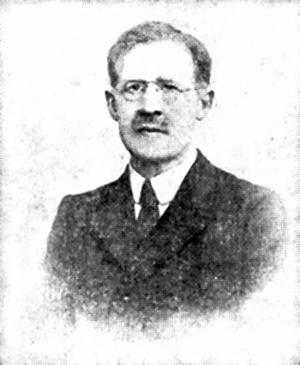 Bekend artistiek portret van een 50-jarige Theodoor Vandevelde.
Zijn invloed op de evolutie van de Belgische fondduif is moeilijk ten volle te schatten.
Theo Vandevelde, geboren in 1869, was de intellectueel van de familie. Omdat hij "goed leerde", mocht hij naar de normaalschool en werd onderwijzer. Naar de universiteit gaan was nog geen mode en voor de gewone mens was de normaalschool meestal het hoogst haalbare. Als jonge onderwijzer verhuisde Theo Vandevelde naar de streek van Oostende waar hij carrièremogelijkheden kreeg in de school van Oudenburg en er vrij snel schoolhoofd werd.
Hij liet dus de duiven en duivensport achter in Waregem en was geenszins van plan om in Oudenburg met de duiven te spelen. Hij had er wel vrij snel een "volière" en enkele duiven, maar niet om te spelen... gewoon omdat hij ze graag zag... dacht hij. Maar de verleiding was groot, te meer daar zijn broer hem af en toe een kleurrijke duif van de goede soort meebracht...
Rubens
Het zou de huisschilder Edmond Vermoortel, bijgenaamd de Rubens en zelf ook duivenmelker, geweest zijn die Vandevelde over de brug haalde. Hij stelde voor om eens een paar duiven van de meester mee te nemen om ze op te leren. En het spel zat op de wagen...
Theo Vandevelde die gewoon geweest was goed te spelen in Waregem, wilde ook in Oudenburg geen meeloper worden. Als hij dan toch met de duiven zou spelen, dan zou hij het doen met kwaliteitsduiven.
Uiteraard ging Vandevelde eerst terug naar de bron in Waregem. Van de duiven van bij Alfons zal vooral het Verschillig Oogske een absolute stammoeder worden. Het was een duivin met twee verschillende ogen, we vermoeden een normaal gekleurd oog en een zwart pigmentloos oog, een zogenaamd mieroog, typisch voor duiven met witbonte plekken op de kop. Verschillig Oogske was soort Delantsheere van Waregem.
Aimé Vandenbosch
Theo Vandevelde zal zijn hele leven alert blijven om te zien wie op dat moment het beste speelt. Het was nog geen mode om papieren duiven te kopen met opgesmukte pedigrees in vierkleurendruk. Vandevelde wilde enkel de bewezen goede duif en dat zal zijn hele carrière zijn grootste geheim blijven: de beste duiven bijhalen en alleen van het allerbeste basismateriaal kweken. Zo kwam hij rond de eeuwwisseling terecht bij toenmalig Gents kampioen Aimé Vandenbosch. De twee duiven die hij er bijhaalde, werden kampioenen in de kweek: de Zwarten die een zoon was van de beste kweekduivin van Vandenbosch en een bruine duivin, d.w.z. een Grauwe met koperkleurige doorslag. Koekoekskleur noemt Piet de Weert het. Je zou het ook "bastaardkleur" kunnen noemen. Misschien waren het wel broer en zus.
Het zal al snel blijken dat Theo Vandevelde er een goed oog op had.
Waregem
Theo Vandevelde mag dan wel in Oudenburg gewoond hebben, we kunnen zijn verhaal niet vertellen zonder het voortdurend over Waregem te hebben, want daar floreerden immers zij aan zij zijn broer Alfons en de gebroeders Delombaerde. Het is een discussie zonder einde of de Delombaerdes nu eigenlijk hun goede duiven haalden bij Vandevelde of omgekeerd. Het antwoord is simpel: ze hadden elkaar niet nodig om groot te worden maar wisselden maar al te graag duiven uit. Meester Baeten is eerder een verdediger van de stelling dat Vandevelde groot werd met de duiven van de gebroeders Delombaerde. Hij doet dat in zijn overigens zeer interessant boek "De Witte Veer". Maar de werkelijkheid is genuanceerder: ook de Delombaerdes haalden bij Theo of bij Alfons Vandevelde steeds uit de allerbeste koppels, zo bijvoorbeeld een Blauwe uit het topkoppel van Theo: Pokje x Baronduivin. Ook uit het basiskoppel van Alfons, namelijk Papaatje (Gallez houdt het bij "Patatje") x de Blauwe Kweekster, een dochter van dezelfde Baronduivin, kregen de gebroeders Delombaerde een zoon, de Vuile, misschien wel een van de bekendste en beste die ze destijds hadden. Hij vloog de eerste in groot verband uit Orléans en uit Dourdan. Dat was nog voor WOI.
Maar de waarheid gebiedt te zeggen dat één van de basisduiven van Vandevelde een Blauwe duivin was van het soort Delombaerde die Alfons rond 1900 meenam tot bij zijn broer. Zij werd moeder van de Baron.
De opbouw
Theo Vandevelde zette zijn Zwarten Vandenbosch tegen het Verschillig Oogske en kweekte er meteen een crack uit: de Sproete, goed voor eerste prijzen uit Tours en uit Le Touquet. Sproete ging verloren, maar een broer ervan ging naar Waregem en werd een stamvader bij Alfons, het reeds genoemde Papaatje of als u verkiest "Patatje". Voor het verhaal maakt het niet veel verschil.
De Blauwe Delombaerde zette Vandevelde tegen een Antwerpse duif die hij van huisschilder "Rubens" in leen kreeg voor een koppel eieren. De Antwerpenaar of Sinjoor moet een klasbak geweest zijn, want uit één van de twee eitjes kruipt "de Baron". Het feit dat deze duif een welsprekende naam kreeg, spreekt al boekdelen op zich. Meester Theo was niet zo tuk op modieuze namen, tenzij voor de allerbeste. En de Baron was een goeie met talrijke eerste prijzen waaronder een eerste prijs uit Bordeaux met 3 uur vooruit. Het was ook een goede kweker die met het Verschillig Oogske van Delantsheere een serie goede duiven gaf. Een zoon van het koppel, namelijk het Blokske, een duiver met kousevoeten, gaf met weer een duivin van broer Alfons de belangrijkste kweekduivin van voor de oorlog: de Grote Blauwe of de Baronduivin.
Onder schoolmeesters
In de geschiedenis van de duivensport ontmoet je nogal wat schoolmeesters. Dat was vroeger zo en dat is vandaag nog ten dele zo. Zo had ook meester Theo bij zijn collega's op school een duivenmelker en nog niet de slechtste: Louis Linghier, ook van Oudenburg. Ook de gekende Geo Platteau van het nabije Gistel was onderwijzer. Hij had nog samen met Theo Vandevelde op de normaalschool gezeten.
Met Linghier wisselde Vandevelde wel eens duiven uit. Zo gaat dat toch onder collega's met een gemeenschappelijke passie. Zo kwamen van Linghier o.a. een zoon van zijn Snak en een Blauwe Weggeduivin. Wellicht waren het er wel meer, maar zeker die twee hebben hun stempel gezet op de uitbouw van de kolonie in Oudenburg.
Uit de Snak, die van 1904 was, met een duivin soort De Herdt, kreeg Theo Vandevelde zijn Pokke. Hij koppelde de Pokke met een duivin die Wegge was via Janssens van Edegem.
Uit dat koppel kwamen twee doffers die een centrale plaats innemen in het verhaal: Pokje en Gelijke Penne. Pokje was een blauwe duiver die vooral moest vliegen en dat ook uitstekend deed met eerste prijzen uit Ruffec en Bordeaux.
Zijn broer had een vleugeluiteinde uit het boekje met de 4 laatste pennen die bijna gelijk waren. De vleugeltheorie moest nog uitgevonden worden, Jan Aerts was nog niet aan het doordrammen over de zevende pen, maar toch zag Theo Vandevelde dit als een teken van grote klasse en ging massaal kweken uit de Gelijke Penne. We mogen hieruit afleiden dat hij voor de kweek toch min of meer een beeld van de ideale duif voor ogen had, waarbij ook het vleugelbeeld zijn belang had. Hij zette de Gelijke Penne tegen zijn beste duivin: de Baronduivin en kweekte er een resem kwaliteitsduiven uit, bij hem maar ook bij broer Fons. Zo zal Alfons Vandevelde - al of niet geïnspireerd door Theo - een dochter uit dat koppel paren aan zijn Papaatje. Delombaerde kregen er hun opperbeste Vuilen uit die eerstes vloog uit Dourdan en Orléans.
Ook nog uit het koppel Baronduivin x Gelijke Penne kwamen Plekke (1 Orléans, 1 Etampes en 2 Etampes) en Blauwe Beer.
Blauwe Beer gaf met de Blauwe Wegge van Linghier de Beer, 1 Breteuil en 4 Bordeaux.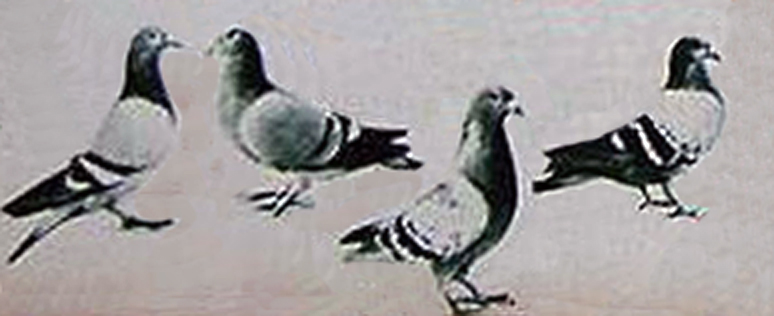 Vandevelde had veel blauwe duiven. Dat was geen persoonlijke voorkeur, maar gewoon toeval dat zijn beste kweekkoppels blauwe waren.
De duivenfotografie stond ook duidelijk nog in de kinderschoenen maar duiven hadden toen nog wel twee poten en twee vleugels.
Zelfde recept
Na de kweeksuccessen van de Gelijke Pen met de Baronduivin, koppelde Vandevelde zijn Baronduivin aan Pokje, de broer van Gelijke Penne. Ook uit dit koppel ging een topduif naar Delombaerde. Ook Jules Vander Espt kreeg er een goede blauwe duivin uit. Vandevelde zelf haalde er zijn Dikken uit die jammer genoeg slachtoffer wordt van de grote opruiming voor de oorlog. Want daar zijn we nu vlakbij en veel van het veredelings- en koppelwerk van meester Vandevelde zal hier jammerlijk teloorgaan...
Theo Vandevelde was nogal een opportunist wat het kweken van duiven betrof. Zijn devies was: "Veel kweken en veel testen". Een uitzondering niet te na gesproken geloofde hij schijnbaar ook niet echt in kweekkoppels in deze zin dat hij zich niet de luxe permitteerde van veel "kwekers" aan te houden. Hij kweekte graag uit zijn beste vliegers... met alle risico's van dien. Het gebeurt bij de besten dat vliegers op zekere dag achter blijven en zo ging menig beloftevol kweekkoppel bij Theo Vandevelde de mist in.
En hij was zeker geen familiekweker. Hem interesseerden vooral duiven die goed vlogen en naar zijn gevoel kwamen die vooral uit kruisingen. Hij bracht dan ook regelmatig nieuw bloed bij en durfde gerust volledig nieuwe lijnen op te zetten, d.w.z. de ingebrachte duiven tegen elkaar houden i.p.v. ze tegen zijn soort te zetten. Maar het lukte blijkbaar allemaal. De meester had een geniaal trekje in het beoordelen en koppelen van duiven. Maar één iets is zeker: als de Vandeveldes een homogene stam vormden, dan was het op basis van kwaliteit en veel minder op basis van bloedverwantschap. En de belangrijkste kwaliteit was om te kunnen vooruitvliegen. Hij doet ons hierin denken aan de oude Jacques Tournier die ook geen andere wilde om zijn kolonie op te bouwen dan duiven die konden de eerste vooruit vliegen. En de Vandeveldes stonden erom bekend dat ze gemakkelijk vooruit vlogen, als het moest een half uur of meer. De Baron had hiervoor de toon gezet.
Nog Waregem
Het is vooral Theo Vandevelde die de geschiedenis is ingegaan als de leverancier van excellente duiven aan Nestor Tremmery, Ernest Casteleyn en andere Georges Platteau. Maar laten we vooral de rol van broer Alfons niet minimaliseren. Ten eerste speelde hij zelf in Waregem meer dan behoorlijk en ten tweede was hij het vooral die goed bevriend was met de Delombaerdes en er regelmatig duiven mee uitwisselde waarvan Theo zijn deel kreeg. Maar ten derde, en niet in het minst, was hij de steun en toeverlaat van broer Theo Vandevelde. Het leek wel een ongeschreven afspraak tussen de broers dat Theo de hokken in Waregem mocht gebruiken als een soort laboratorium waar duiven en koppelingen getest werden en waar de oude lijnen bewaard bleven. Het is een herhalend patroon dat Theo bijgebrachte duiven eerst stockeerde bij Alfons voor proefparingen tot bleek dat ze goed genoeg waren om in de soort te brengen. Even klassiek was het dat Theo kinderen van zijn beste koppels in Waregem stockeerde om de soort terug te kunnen halen als het moest. Blijkbaar verstonden ze elkaar op dat vlak heel goed en voelden ze zich beide goed bij deze taakverdeling. Mooi.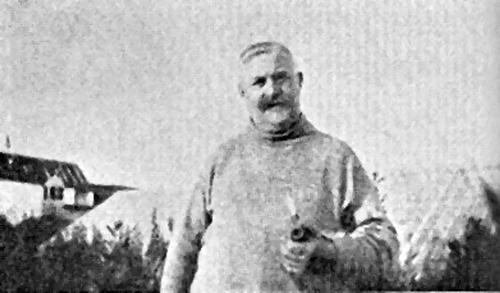 Nestor (Nesten) Tremmery was afkomstig van Menen en kwam pas in 1907 in de streek van Oostende wonen. Tot de oorlog was hij niet te kloppen met zijn oude soort verrijkt met talrijke directe Vandeveldes. In 1914 werd alles gedood... Na de oorlog ging hij er meteen terug 9 halen uit de 3 kweekkoppels die de meester door de oorlog had gesmokkeld. Tremmery haalde er ook een serie bij Baclène (Walcourt) en bij Gurnay (Verviers). Weer was hij de te kloppen man. In 1927 leert hij Bricoux kennen en brengt de Bricoux in zijn soort. Hij verkocht een groot deel van zijn duiven in 1933 en in 1938 en bij het uitbreken van de tweede oorlog stopte hij er helemaal mee.
Vóór de oorlog van '14 was er tegen de duiven van meester Vandevelde geen kruid gewassen: ze waren de schrik van de kuststreek en ver daarbuiten: bij Theo Vandevelde zelf, bij Charles en Jules Vander Espt, bij Nestor Tremmery die toen een kotvol Vandeveldes had, bij collega onderwijzer Georges of Geo Platteau van Gistel, bij Ernest Casteleyn eveneens Gistel enz.
Het mag al een mirakel heten dat we het een eeuw later nog grotendeels kunnen navertellen. Maar daar zorgde vooral meester Vandevelde zelf voor. Dat hij heel goed wist waarmee hij bezig was, mag blijken uit de nauwkeurige notities die Vandevelde - als een voorbeeldige schoolmeester - stipt bijhield. Jammer genoeg hebben we zelf geen direct beroep kunnen doen op deze authentieke documenten, maar Jules Gallez en Piet de Weerd - los van elkaar - blijkbaar wel. Hun verhalen lopen immers vrij nauwkeurig parallel, elk in hun eigen stijl natuurlijk. Jammer genoeg had men in die tijd helemaal niet de gewoonte om ringnummers te noteren. De notities waren vooral voor eigen gebruik en dan had men genoeg aan een beschrijvende naam: de Groten, de Oude Vuile, de Blauw Witoog, de Goede Molenaar enz. Wel noteerde de meester blijkbaar ook vrij nauwgezet aan wie hij allemaal duiven gaf of verkocht en... welke kleur van ogen ze hadden.
De oorlog van 14
En toen kwam de oorlog... Oorlogen zijn sowieso geen leuke tijden, maar ze zijn het zeker ook niet geweest voor de duivenmelkers. Vaak werd door de bezetter of op commando van de dienstdoende autoriteiten het levenswerk van veel kampioenen letterlijk de nek omgedraaid. Zo ook bij Theo Vandevelde. Maar Theo kon het niet over zijn hart krijgen om alles dood te doen en verstopte op gevaar voor zijn leven een drietal koppel duiven. Met enig puzzelwerk hebben we die koppels kunnen reconstrueren: de Oude Groten x de Elfpenduivin, de Oude Vuile x de Blauwe Sproete, een zus van de beroemde Velo met zijn 14 eerste prijzen, en de Velo zelf samen met een dochter van koppel 1. Op het schema zijn ze omcirkeld.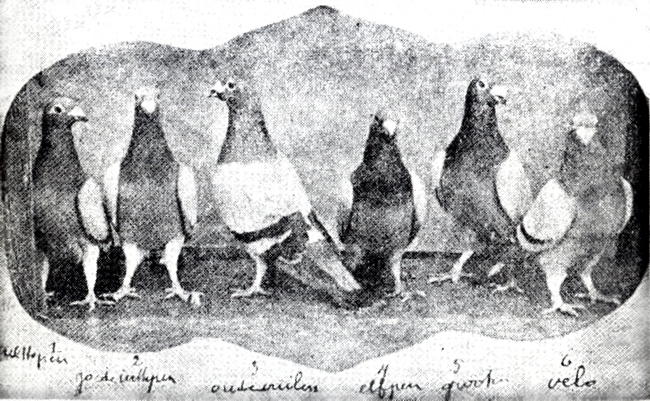 Een zeldzame foto van de eliteploeg van Theo Vandevelde in 1920: 6 blauwe duivers met van links naar rechts: de Wittepen, de Goede Wittepen, de Oude Vuilen, de Elfpen, de Grooten en de Velo. De nummers 3, 5 en 6 waren de doffers die hij door de oorlog haalde.
Na de oorlog wilde iedereen zo snel mogelijk van die duiven hebben. Het is dan ook niet te verwonderen dat we in de geschiedenisboeken heel wat Velo's vinden: August Proot uit Eernegem had een Velo, Remi Benoot van Olsene ook, Nesten Tremmery had zijn Velo. Ernest Casteleyn had ook een Velootje, maar dat was een broer van de Velo, nog van voor de oorlog..
Ook Devriendt stond, zoals bekend, in 1919 bij meester Vandevelde op de stoep voor twee koppeltjes duiven. Waaruit hij ze meenam is niet bekend. Ver naast de genoemde duiven kan het niet geweest zijn.
Na de oorlog
Na de oorlog kwam Theo Vandevelde nooit meer helemaal terug op hetzelfde niveau. Het leek wel of vooral Charles Vander Espt en zijn andere pupillen de fakkel overnamen. Vandevelde zal overigens niet oud worden: in 1927 sterft hij, amper 58 jaar oud. Toeval of niet, 1927 is ook het jaar dat Jules Delombaerde sterft en de duiven van de Gebroeders zo goed als totaal verkocht worden. Het einde van een tijdperk, maar hun duiven zullen nog minstens een hele generatie voortleven.
Na de eerste oorlog was de soort van meester Vandevelde meer dan ooit gegeerd. Hij kon ze niet rap genoeg kweken en de spreuk indachtig dat je het ijzer moet smeden als het heet is, hield hij in de jaren twintig verschillende verkopingen. Dat gaf ook aan zijn vrienden die ze altijd gratis kregen, de gelegenheid om de meester een plezier te doen en er enkele te kopen. Zo kochten Charel en Jules Vander Espt er samen 12 stuks op een verkoop van 1922. Theo vond wel dat ze dat "niet moesten doen", maar ze werden er niet slechter van.
Ook Leopold Lamote van Moeskroen bouwde zijn beroemde kolonie op met Vandeveldeduiven: rechtstreekse van Alfons Vandevelde en via Commine.
Zowel Cattrysse als Pol Bostyn haalden bij Lamote waardevol basismateriaal.
Nieuw bloed
Theo Vandevelde was geen inteler, dat moet ondertussen duidelijk zijn. De oorlog verplichtte hem dus om snel nieuw bloed te gaan zoeken voor de nodige kruisingen. Zo ging hij bij zijn vriend Victor Biebuyck in Olsene (Zulte) een duiver kopen, een late van '20 die een bijna pure Wegge-De Herdt was. De beste Antwerpse duiven dus van rond de eeuwwisseling. Die Late Blauwe kwam uit een duiver van Henri Christeyns van Bevere (Oudenaarde) en een duivin van Charles Pauwels uit Sas-van-Gent. Beiden hadden overwegend duiven van De Ridder waarvan bekend is dat hij kort bij de duiven bleef van Karel Wegge van Lier en Eduard De Herdt van Kontich. Bij Pauwels zat daar ook deels Vandevelde in.
Theo Vandevelde had zijn neus voor goede duiven niet verloren tijdens de oorlogsjaren, want uit de Late Blauwe met een vale, de Zeemde Duivin, - van zijn eigen soort - teruggehaald bij Eudore Moulart (uit Frasnes-lez-Buissenal tussen Ronse en Leuze) werd zijn Napoleon geboren. Vandevelde was natuurlijk niet vergeten dat zijn Pokje, misschien wel de beste vlieger en kweker die hij ooit had, ook veel bloed voerde van Wegge en De Herdt. En het werd inderdaad een schot in de roos want de Napoleon van 1921 werd zowat de beste duif die de meester na WOI had. Karel Vander Espt kreeg er jongen van en via hem ging de soort van de Napoleon naar Julien Matthys. Op beide hokken zal de Napoleonsoort geschiedenis schrijven.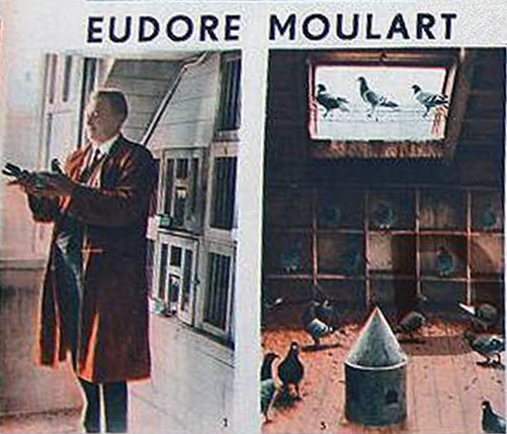 Ook Henegouws kampioen Eudore Moulart van Frasne-lez-Buissenal werd groot met Vandeveldeduiven. Theo Vandevelde haalde er na de oorlog de vale moeder van zijn Napoleon terug van eigen soort.
Het is maar eens gokken, maar misschien lag de Napoleon, die ook een vale was, wel aan de basis van de Karelsoort. Het zou niet eens zó vreemd zijn. Oscar Devriendt zal de reputatie van de Napoleonlijn ook wel gekend hebben: de fameuze "10" van Charles Vander Espt was immers een kleinzoon van de Napoleon Vandevelde. Het zou dus wel eens gekund hebben dat Devriendt tegen Vander Espt gezegd heeft: "Karel, van die vale Napoleonsoort moet ge me eens wat bezorgen..." Het zou een mooi verhaal zijn.
En even terzijde: het was bij dezelfde Moulart dat Rousseau van Jemeppe-sur-Sambre zijn Vandeveldes ging halen en zo kwamen ze ook deels bij Bricoux.
En nog in de kantlijn: ook Julien Commine (Leers-Nord) haalde duiven bij Vandevelde, net als Paul Sion die ze met de volle korf haalde. Volgens Jules Gallez waren de Commines in 1919 voor drie kwart Vandeveldes. Hij haalde ze er al van voor de oorlog. Zo had Commine een Vuile Blauwe duivin van Vandevelde uit zijn Vuile Bordeauxduivin. De Vuile werd bij Commine moeder van zijn beroemde Napoleon die ook geschiedenis zal schrijven. De Napoleon van Commine was van 1911 en zal wellicht geen familie geweest zijn van de Napoleon van Vandevelde die 10 jaar jonger was en uit bijgehaalde duiven kwam.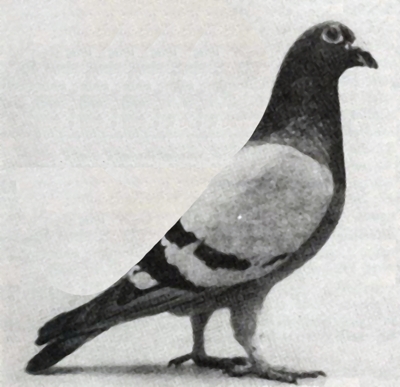 Deze legendarische Napoleon van Julien Commine kwam uit een directe uit de Vuile Blauwe soort van Theo Vandevelde.
De les
Welke conclusies kunnen we trekken uit de goed gedocumenteerde opbouw van de kolonies Theo en Alfons Vandevelde?
Theo Vandevelde was geen inteler, meer zelfs hij was als de dood voor familiekweek. Daarmee verwijst hij de stelling dat wereldrassen door bloedverwante kweek tot stand komen, voor altijd naar het land der fabelen. In het schema van de kolonie Vandevelde zie je weinig "terugkoppelingen". Wel brengt hij steeds maar nieuw bloed binnen, heel soms van eigen soort die hij terughaalt.
Wat er dan wel de eenheid brengt in de stam Vandevelde is het kwaliteitslabel van de duiven: duiven die kunnen vooruitvliegen. Door die duiven steeds maar bijeen te brengen wordt een duivenstam blijkbaar ook "homozygoot" of kweekvast voor die kwaliteiten.
We hebben er in het verhaal heel even op gewezen dat Theo Vandevelde bij al zijn duiven de oogkleur noteerde. We mogen dan ook geredelijk aannemen dat hij daar veel belang aan hechtte. Wat opvalt, is dat hij voor de oorlog overwegend duiven had met felle oranje ogen en die ook probleemloos op elkaar zette.
Theo Vandevelde was slim genoeg om ook van het werk en de duivenkennis van anderen te profiteren: geven en nemen was het principe. Vandevelde kon gemakkelijk van zijn beste afstaan maar kreeg ook overal van het beste terug.
Vandevelde had weinig gepatenteerde kwekers. Je moest al van heel goede komaf zijn om in Oudenburg of Waregem "kweker" te worden: de Gelijke Penne was er zo een, de Baronduivin en natuurlijk de oorlogkoppels waaruit hij zo snel mogelijk zo veel mogelijk afstammelingen wilde voor zichzelf en voor zijn adepten.
Tot slot nog eens de grote stelregel van Theo Vandevelde hernemen: veel kweken en veel leren... anders gezegd "het zijn nooit allemaal goeie", ook niet bij "meester" Theodoor Vandevelde.
KLIK OP HET SCHEMA OM TE VERGROTEN